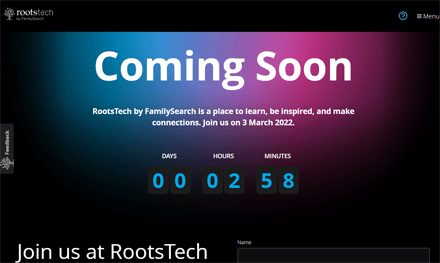 The largest genealogy conference in the world, Rootstech is virtual and free again this year. It starts in just a few hours!
For genetic genealogists, i4GG is on again for April 9-10 in San Diego in person, thanks to CeCe Moore. The East Coast is going to have its own genetic genealogy conference, now virtual, ECGGC on April 23-24. Click any name in the preceding to go to the conference site and yes I will be presenting at all of them.
For Rootstech, my recorded talk delves into the details of the case where I found a jewish sperm donor; click here for that or here for the blog post. My very basic talk on using DNA to figure out unknown parentage, which I did for them last year, is still on youtube (click here). Roberta Estes has written a number of helpful posts about Rootstech 2022 – one on how to navigate the website and find what you want (click here) and several on using the find your relatives app  (click here and here)
For i4GG I usually present what's new at GEDmatch and sometimes more about the latest tools for finding unknown parentage. My 2020 live i4GG talks can still be purchased with all the other great ones from that wonderful last conference before COVID at https://i4gg.org/2020-videos/
At the brand new East Coast Genetic Genealogy Conference (ECGGC), I will give some of my favorite and newly revised talks, live but virtual. The titles below link to the previous versions of my slides but I will make a note here when the slides are updated.