Did you know 23andme now provides the segment data for its ancestry composition assignments? This is a pretty recent feature and might even be useful. Unlike the other companies, 23andme does its admixture (aka ancestry composition) in chunks. This may make it more accurate than the others but in any case it means that they can give us the segment numbers. Then we can compare those to our matches.
To get these numbers, first pull down the reports menu and click on ancestry. On the initial ancestry page click on Ancestry Composition or the > symbol next to your highest group. Both are marked with my red arrow below.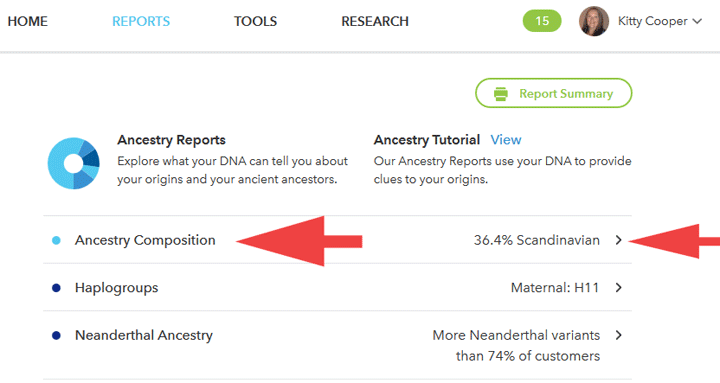 The next page, the ancestry composition page has the pretty chromosome picture with ancestries displayed where you can change the confidence level from speculative (50%) to conservative (90%). To get a CSV file of the segments you click on Scientific Details at the top or the bottom of this page.

Then scroll all the way to bottom of that next page until you see this. You can select your confidence level as well for your downloaded data.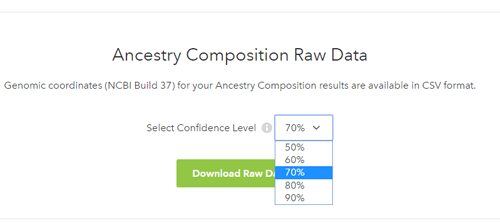 The resulting CSV file looks like this. Notice the column "copy." My results are phased with my Dad so his contribution is copy 2 and mom copy 1. Without that phasing they can only guess which copy a result belongs on.
It's not very compatible with other segment files in this format. So I remove the word "chr" to leave just the number and then center it. I always add commas to the start and stop numbers so I can read them more easily. Then I sort by chromosome and start points.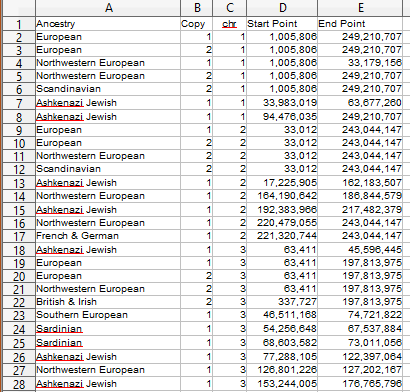 To the left is an excerpt from my reformatted version, by the way it is the speculative version. I doubt the Sardinian but it might be part of my ashkenazi grandad's contribution…
Notice that all the ancestral areas and subareas are listed for the same segments, So European, Northwestern European and then the interesting breakdowns.
I will report back in the future if this is at all useful. Do remember that ancestry composition results are not very accurate yet for any company so always take them with a large grain of salt.