Most of my matches at ancestry don't see why they should upload their data to GEDmatch. I send them the URL of my slide presentation and extol the delights of the fun ancestry composition (admix) tools but it is hard to explain why I like to see where my DNA matches someone else's. Curiosity? It's fun? I love making these spreadsheets? Possibly it is because I am very interested in how DNA inheritance works and love to see which grandparent gave me which piece of DNA (n.b. it takes a lot of work to get to that point).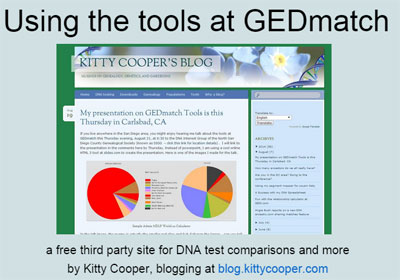 When I know the common ancestor for a specific segment sometimes a new match fits in immediately to a family line. The best example of that is finding my previously unknown 3rd cousin Katy. When I saw where she overlapped I emailed her that it looked like she was related on my WOLD line to which she responded that her grandmother was a Wold. She has since sent me many wonderful family pictures that I had not seen before.
Today I got an email from someone who had tested at ancestry and uploaded to GEDmatch. She wanted to know how to use my tools with her GEDmatch data. However my tools require a CSV file of overlapping segment data which cannot be downloaded in one fell swoop from GEDmatch, unlike at 23andme or Family Tree DNA.
Personally I built my many CSV files (one per person tested) slowly, as I compared each individual's DNA results, contacted that match, and then cut and pasted the overlap information into my spreadsheets. Jim Bartlett did a great guest blog here on the process of building these DNA spreadsheets.
But I can understand the desire to see a quick picture of your matching DNA. GEDmatch does have a chromosome browser where you can see the overlaps, although the presentation is somewhat different from other sites. A little known secret is that you can massage that function's table output into a spreadsheet (see end of this post for the technique).
To use the GEDmatch chromosome browser you start by clicking on the one-to-many under "DNA analysis" on your GEDmatch home page (click here for that slide) then enter your kit number on the form on the next page. After a bit of a wait you will be presented with a large table that is a matrix of the information for your matches.

By the way, these column headings are explained in the handout for my slides, as well as in the GEDmatch utilities manual. Both of these are in my download area.
Now to get a chromosome browser view from the one-to-many results page, you have to click on the box in the "Select" column for each person you want to see in your chromosome picture. For example you might pick your top forty matches. Then every chromosome is shown separately on the resulting output page. Here is how chromosome 1 from my Dad's top ten looks (click the image for a larger version):

Each person is represented by a line in the table and chart. So in this example, line 1 is my second cousin RL. The colors used indicate the size of the match in centiMorgans (cMs – click here for the definition). This is useful because the display is in base pairs, which is a real physical distance, unlike the cMs, but is not as representative of the degree of the match as the cMs are. So anything colored green or warmer is a good match. I tend to only pay attention to the blues when they overlap other matches and I ignore the purples.
When the segments are overlapping with another person in the group this is shown in the far right column with the start and stop points of the match in base pairs. So GP and RL are overlapping segments on the chart as indicated in that column. This DOES NOT mean that they match each other there, although that is expected since they are 2nd cousins to each other as well (GP is actually a 1st cousin to me). A one-to-one comparison for these two would tell me that they match. Remember the reason this is called a 2D chromosome browser is that everyone is being compared to just one person, not to each other.
When a DNA segment does not overlap with the person in the line just above it, then the match up is shown with a white vertical line on the chart to the other person's horizontal line and the notation Old Branch(#) is used in the far right column. The number (#) in parenthesis indicates which line number the matching person is on. So Mike on line 3 has a small overlap with RL on line 1 and his daughter Katie has that same matching segment on the next line down. The spot where Mike's cousin Nathaniel on line 5 matches him is indicated by the words Old Branch(3)  followed by the numbers indicating where the segment starts and ends. Mike, Nathaniel, and Katie are not related to RL only to GP, according to the known paper trail.
Why might overlapping segments not be a match? Because there are two sides for every location on these charts, since our DNA consists of 23 paired chromosomes, each of which is a recombined mix from one parent (except the Y). For more on that concept read my write-up of DNA basics on this blog; it has a number of links to other good pages with explanations of the basics as well.
Click here for an even more detailed write-up of using the GEDmatch Chromosome Browser for triangulation by Sue Griffith.
Now back to the original question. David from DNA-NEWBIE described massaging the chromosome browser output in a post in that mailing list, but then referred me to a wonderful document from the DNAadoption.com folk that shows how to do it step-by-step:
http://dnaadoption.com/uploads/DNAadoption/DNAadoption_files/DNAadoption/Combining_Results.pdf

Also there is a terrific all-in-one tool called Genome Mate that will give you overlap pictures of your overlaps from your ancestry data that has been uploaded to GEDmatch. I have not yet used it myself but I hear good things about it.
So dear cousins from ancestry, does this help? Let me know how I might improve this write up.
UPDATE: 20 Mar 2017 – I prefer to use the Matching Segment Search to create the first spreadsheet for a cousin tested at ancestry. See my post called "Taking it to the next level – DNA spreadsheets."  Also when I first wrote this post, I thought that the overlaps shown were actual matches to each other but they are not necessarily. They are just where those people match the original person being compared.