Ancestry has unveiled a new convenient feature: the ability to link a DNA match to their entry in your tree. No one can see the resulting tag but you or someone with whom you have shared your DNA results.
In the past, I would add the pathway to the relationship in the notes for a match. Below is how the match to my second cousin John looks now. The tree icon with a check next to his name means that I have connected this match to my tree. Clicking on that icon will take you to a view of him within my tree. On the right you can see how I explained his connection to me in the notes next to the notepad icon.
Over in your tree, each person that has been connected to a DNA match also has that icon on their image. Here is how my brother looks in the pedigree view in my tree now with the new icon next to a green leaf. People I have shared BOTH my tree and DNA with can also see that icon but not on the living unless they specifically have permission to see living people in your tree. Also they have to have turned on "connected DNA Matches" from the DNA icon at the bottom of the far left tower of icons. That icon is only there when a DNA test is connected to that tree. Clicking it slides in a panel on the right where you can select which DNA icons you want to see. For example, since I have turned on the ThruLines indicator, my parents and grandparents have the ThruLines icon showing in the image below.
Why is this useful you may ask? Well for me it is most useful on those distant cousins with no trees whose relationship I figured out a while back and have probably forgotten the details of by now. Or maybe Ancestry found it for me and I added that family branch to my tree (click here for my post for how to easily do that).
Since I have shared both my DNA and my tree with my brother and a few interested cousins, they can look at my match list for those icons to see if I have already figured out how a newly found cousin connects to us.
The other time I have found this new feature to be really useful is when I have a research tree for an unknown parentage case and have built out the tree of a match as a floating branch within that tree to much more depth than they had in their own tree. Now I can connect those matches so that I can quickly click to see what I have built for them.
Here is the step by step of how to set up a connection with this new tool using my brother as an example.
This is how my brother looked on my match list before.  I clicked on his name to get to his match page where I could make the new connection.

Here is how my brother's match page looked before I connected his DNA match with me to my tree: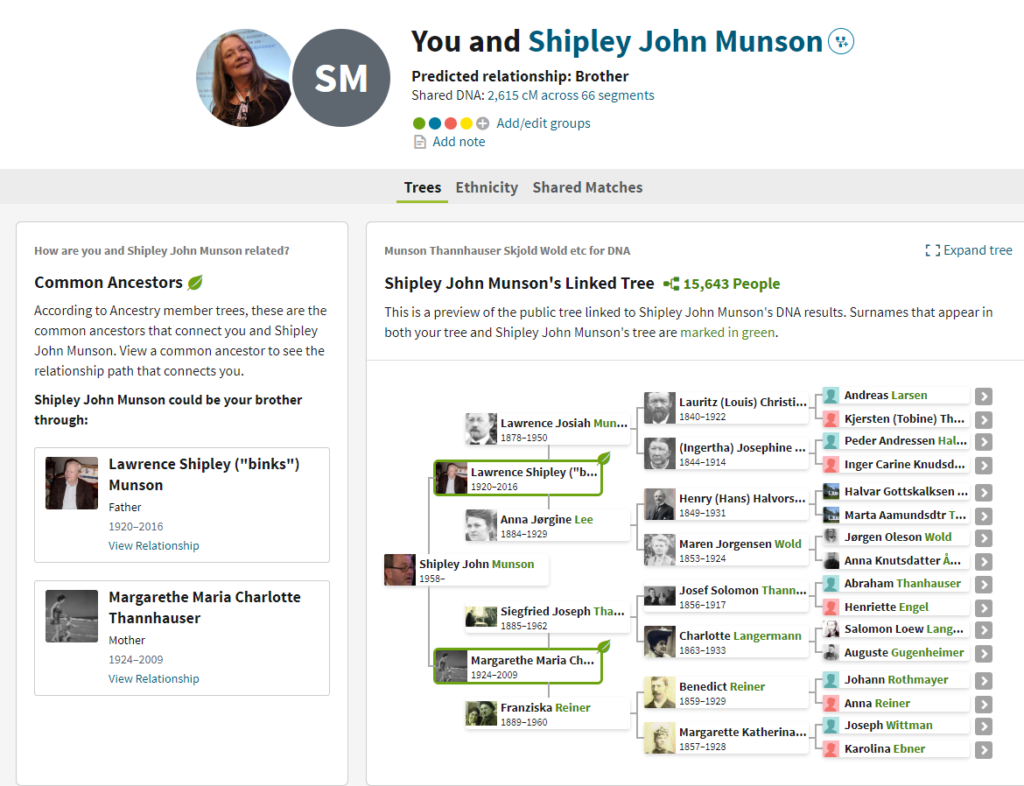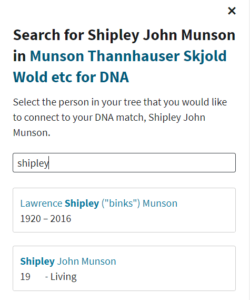 At the top of the match page next to his name is a new icon, a little family tree chart in a circle with a plus. Clicking on that icon gets a panel sliding in from the right where I can search for him in my tree using the Ancestry auto-complete.
To the right is the screen shot of how it looked when I typed in "shipley."
Clicking on the name you want in the auto complete list links this DNA match to that person in your tree. I clicked on his name and now the top of my brother's match page looks like this.

Notice that the icon next to his name has changed, the plus is gone, replaced by a check mark, and the background is solid. This is the same as the one on the page with the list of matches which indicates that this person is connected to my tree. Clicking on that icon here slides in a panel on the right as shown above which lists his entry in your tree.
In the tree itself, the same icon appears on my brother's entry because I have turned on those icons. Clicking on the icon in the tree pops up his box but now there is a new line there that says "Connected to DNA Match" like this: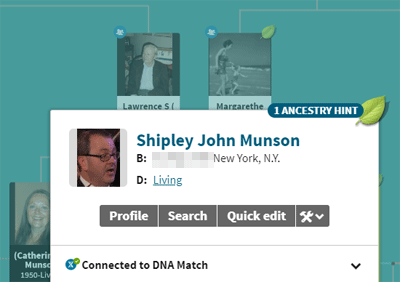 Clicking on that line expands the box so that it shows information about the match and is clickable either to the match page via the green button that says "View match profile" or to the match list via the underlined "Kitty Munson Cooper's DNA Matches."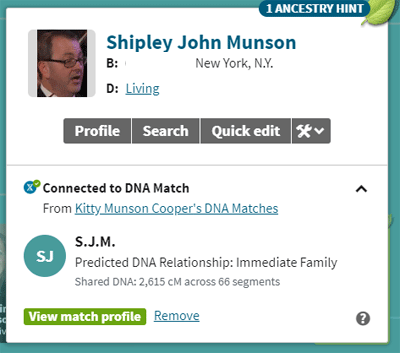 Click here for the nice article Randy Seaver has written a about this feature on his geneamusings blog, It includes a link to an Ancestry video which mentions this new icon as well.