Sometimes DNA can reveal an ugly truth. A reader, let's call her Patty, asked me for help explaining the unusual looking comparison of her DNA test results with her uncle Bob's results. The surprising thing was the large number of green bars that she saw in the GEDmatch one to one comparison, indicating fully identical segments (FIRs), almost as many as a full sibling would have. How could that be?
Of course my first thought was that Bob is actually her full brother, that her mom, Janet, had a child out of wedlock who was raised by the child's grandparents, Mona and Dick, as their son. This has happened in many a family. But that was not the backstory. Janet was a small child when her brother Bob was born. Bob and Patty also share just one segment of 27 cM on the X chromosome, which, of course, would be normal for a maternal uncle but low for a brother. Have a look at the comparison image from GEDmatch for chromosomes 1-22: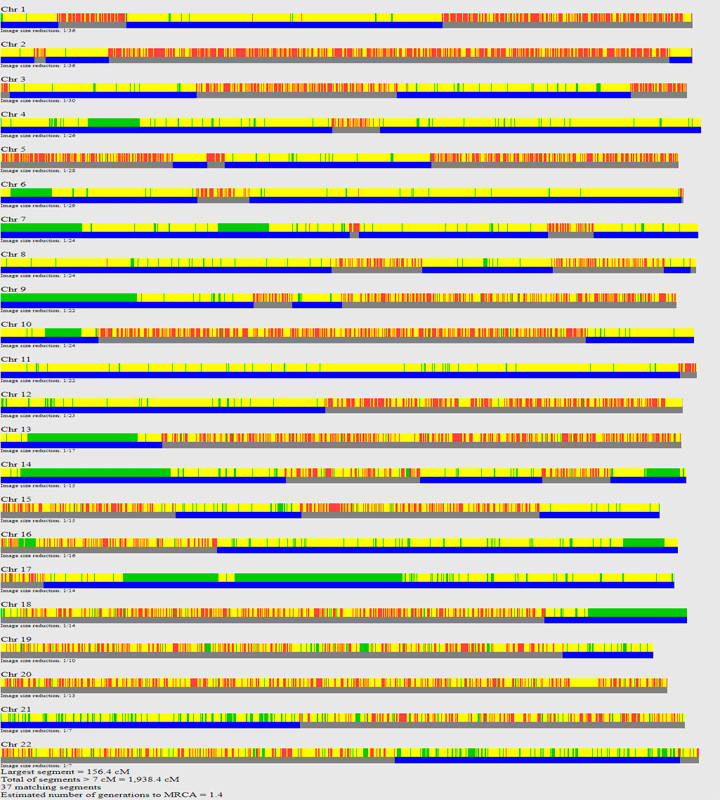 Thoughts? Usually only full siblings or double first cousins will have numerous fully identical segments, so what could this be? Obviously Patty's dad would also have to be a close relative of Bob's for there to be so many FIRs. A full sibling would usually show even more of them, however.