Finally a way to give our Ancestry.com
cousins a chromosome browser! If you have not been able to convince them to use GEDmatch, perhaps it will be easier to convince them to transfer their data to Family Tree DNA – that wonderful and very reputable company which started the personal genome testing revolution. This is a more private way to compare data than at GEDmatch since only your DNA matches can see your information and compare where they match you. There is a free transfer which gives you an account with just your matches. Or for $19 you can transfer to a full featured account there with all your matches and ancestry composition (called MyOrigins).

This transfer is possible since you already have the raw data from the DNA test. The link for uploading your results from another company (including MyHeritage) is at the top left under DNA Tests  [update 30 sep 2017] .
To download the raw data from ancestry, you need to click on the settings button next to the person whose data you want on your DNA homepage. You can get the raw data for kits you manage or have been shared with you as an "editor."
How to Guides
Roberta Estes wrote up the step by step of how to download the DNA data from ancestry over a year ago on her blog: http://dna-explained.com/2013/03/21/downloading-ancestrys-autosomal-dna-raw-data-file/
Blaine Bettinger has written up the step by step how to sign up for initiating the free transfer on his blog, the genetic genealogist, at http://www.thegeneticgenealogist.com/2014/10/16/transfer-raw-data-family-tree-dna-39-sneak-peek-free/
Fix for Problem with Recent Ancestry Results
UPDATE 13-Jan-2018: Recent ancestry files will get an error on upload to Family Tree DNA so a kind programmer user wrote a tool to fix your ancestry file. Find it at http://www.mapmy23.com/tools/ancestry_ftdna_fix.php
Transferring My Brother
So I decided to try it out by transferring my brother's data from ancestry to a free FTDNA account, since I already had downloaded his raw data a while ago. It went smoothly and I immediately got an email with his login userid and password. I was told to wait an hour for his matches. So I decided to write this post while I waited.
Next I exported a GEDcom from my genealogy program with 12 generations of his ancestors and 4 generations of their descendants in order to upload that to FTDNA. So I logged into his new account and clicked on Family Tree under My DNA. The page that came up had a big red message pointing to the little gear icon on the bottom right telling me I could upload a tree. So I did. Interesting that family tree DNA gave me a warning message that I would be overwriting his tree when there wasn't one there. However I liked that when I went to the family tree page again it asked me if I wanted to show deceased people in the last 100 years or not. I selected the option to show them to my DNA matches only.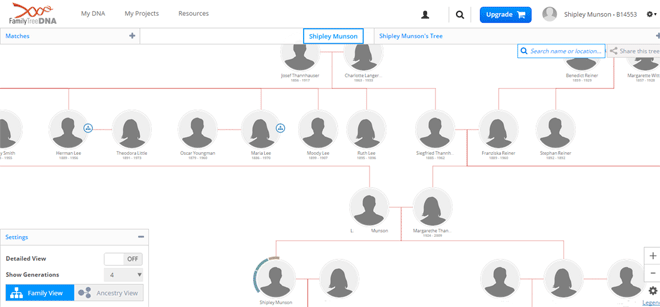 His matches came in after about an hour. Not surprisingly he matches me and Dad and some of our close relatives. I was able to select those relatives and look at them in the chromosome browser. But the contact them via email does not work nor the in common with function nor can you pull up a family tree even when you know there is one. Those require an upgrade to the paid version (only $39) which you will see the link for when you try to email someone or initiate another not yet unlocked function. [UPDATE: 16 Feb 2017 – you can see all your matches for free and the upgrade to use all the tools is only $19]
THE REST OF THIS Article IS OBSOLETE as of 16 Feb 2017
My brother does not appear in the family finder matches for my Dad or myself when I log into our accounts. This is how the free accounts work. See what Elise Friedman on the FTDNA Forums says:
http://forums.familytreedna.com/showpost.php?p=393673&postcount=5
Refer Four People and Get an Upgrade to a Full Account
Another way to get an upgrade is to refer four people.
My brother, aunt, my cousin, and my husband all got the four referrals for the upgrade. Once you get the four it gives you a message that it will be 1-2 business days before the account is finished processing. This has worked now; so thanks very much to all of you, my dear readers!
Kris Stewart is letting people post their links on her blog post:
http://www.mylinktothepast.com/2014/10/free-yes-free-autosomal-dna-transfer-to.html
So please use a link there to start your transfer or click on this link to Family Tree DNA to unlock one of my cousins.