The excitement is building… RootsTech, the largest yearly genealogy conference, has gone virtual and what's more it's free this year! Over 400,000 people from all over the world have registered for RootsTech Connect. It starts this Thursday February 25–27, 2021, at rootstech.org [UPDATE 23-Feb-2021: Due to time differences, in the USA it starts the evening of Wednesday the 24th: the Expo Hall officially opens at 5pm Mountain time and the main stage and classes at 9 pm Mountain time… and yes I updated the number of attendees and will continute to do that].
Many companies have sales or specials at the time of Rootstech. One of the most exciting ones is that DNA uploads of tests from other testing companies will get the DNA tools for free this week at MyHeritage (click here to learn more). Be sure to go to the virtual Expo Hall, once it is open, to check out all the other specials.
My own talks are a two part series on unknown parentage, as well as a presentation on one world collaborative trees: FamilySearch, GENI, and WIKItree. I saw a really large number of talks in my areas of interest:  DNA, Norway, Jewish, and Germany. Fortunately the talks will be available long after the conference ends. There are far too many for me to manage in just three days!
How are they going to handle the online conference?

Well the lectures are on demand so you can watch them at any time. You can search them by topic or speaker or locality or language (11 languages are supported!). Then each lecture will have a chat room where you can leave messages for the speaker and interact with other attendees. Lecturers will post when they are planning to be in the room plus each speaker also has a helper who will keep an eye on those chats.
One of the most fun apps is the Rootstech relative finder. If you are in the FamilySearch tree and attach that profile to your registration you can see all your cousins who are attending. People with deep American roots have thousands. I recommend reading Randy Seaver's blog post about this (click here).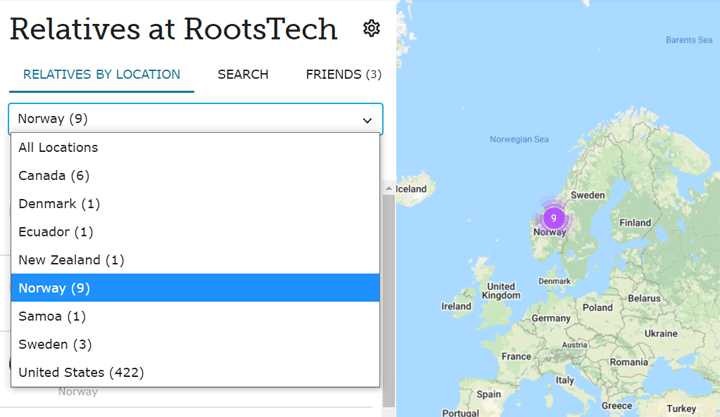 Personally I am up to 440 relatives attending, all on my Norwegian father's side. Mainly from the USA although I have one from Samoa! When I broke out the USA by state I have the most from Utah with 144; next comes California with 31 and Arizona at 24. I also did a search for a presumed distant cousin I knew was attending who has a few cousins  that I am DNA matches to and discovered that we are half 11th cousins!
Hope to "see" you in one of my chat rooms!
UPDATE 23-FEB-2021: Here is the Welcome to RootsTech Connect video on youtube:
UPDATE : typing my name will not find me in the search unless you add quote … so here is my speaker page https://www.familysearch.org/rootstech/rtc2021/speakers/kitty-cooper/en