A new feature at 23andMe is the ability to link your DNA test profile to a tree at any one of a number of online sites. Ancestry.com,
 FamilySearch.org FindMyPast.com, GENI.com, MyHeritage.com, RootsWeb, and WikiTree.com are all supported. The problem is that most of those sites need a login so if your match is not logged in there, it does not work well.
WikiTree.com and RootsWeb are the two that do not need a user to be logged in to see the tree, so I recommend using one of those sites. Although MyHeritage.com, which many of us still have from the days when you got a free small tree there as a member of 23andMe, will show much of a tree without being logged in.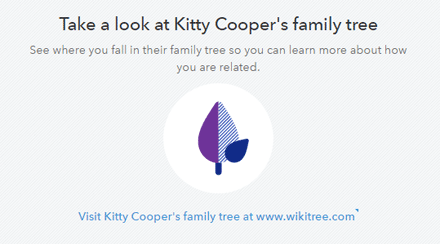 Where do you see this tree link?
Go to Tools > DNA relatives and click on a person. Scroll to the very bottom of the page and see something like this image. Click the 'Visit" link to get to the tree.
How do you link your profile to your tree?
This is the tricky part. The only place I have found where you can do this is from your DNA relatives People page.
Continue reading →