One of the difficulties of having your family tree in many places is keeping them all up to date.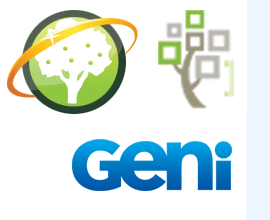 When I give my presentation on why you should contribute your research to one of the one world collaborative trees, I usually suggest that you pick only one for just that reason. Personally I use all three, FamilySearch.org, GENI.com and WIKItree.com. So I need a few clever tools to keep them in synch.
Both FamilySearch and WIKItree accept GEDcom uploads so I often add a new family line on GENI, then download the gedcom and merge it to my private family tree, before uploading it to the other two. However sometimes the new branch is discovered on Ancestry
 or MyHeritage so …
How to Add a GEDCOM to GENI.com
No you cannot add a GEDCOM to GENI but you can add family groups one at a time from several other genealogy sites via a tool called SmartCopy, if you are a pro GENI user. So if you have a tree elsewhere this is a way to copy your tree over. If you do not have a tree online elsewhere then I suggest you import your GEDCOM to WIKItree and then use SmartCopy to bring over each family group that is not already on GENI. Still not as fast as importing a GEDCOM but way better than retyping or using cut and paste.
SmartCopy Chrome Addon
SmartCopy is an add-on for the Chrome browser which will copy information from record matches at MyHeritage (you need a paid subscription), Ancestry
, or WIKItree. Although it will not copy from FamilySearch, it will copy from a MyHeritage record match page of a familysearch person.
Wikitree X Chrome Addon
WIKItree also has a Chrome add-on tool for copying a person over from other sites. It is called Wikitree X and it can copy from FamilySearch. So when you discover a new branch at that site you can copy to WIKItree with this tool and then use SmartCopy to copy it to GENI.

While there is no Chrome tool for FamilySearch, the paid version of the RootsMagic program on your computer will let you synch people from your local family tree to the familysearch tree.
More about SmartCopy
The details for SmartCopy are listed here http://www.geni.com/projects/SmartCopy/18783 or just click here for the link to use to add it to chrome.
To copy whole family groups, you need an additional privilege to do tree building which only a curator can grant you, so click here for the list of curators.
I have been very hesitant to blog about these tools because of my fear that information from the many bad trees from Ancestry.com
will get added to the other trees. However I promised the last group I gave my collaborative world tree talk to that I would write this blog post. Just please please be very careful. Check over and add the sources for any families you copy…
UPDATE 7 mar 2017: The developer of Smartcopy told me that it works with familysearch now, so I guess I need to try that again! Here is what he said in addition on Facebook in the GENI users group there:
" … the latest version 3.x allows basic Geni users to add family members due to some changes with Geni's API. So a Pro membership is no longer needed for that. It is recommended though in order to identify matches for merge so as not to add duplicates to the world tree."