There is a new feature at GEDmatch.com – you can look at the GEDCOM of a DNA match easily again.
Take the kit number of interest and plug it into the user lookup form. On the next page, with the information about that kit, it will either say NO GEDCOM UPLOADED or there will be a GEDCOM id number. That id number is now clickable and will take you to the person associated with this kit number in the GEDCOM.
If you have not uploaded a GEDCOM to GEDmatch.com then I highly recommend that you do so. It is helpful to be able to compare your GEDCOM to that of a DNA match. I prefer just 10-12 generations of my ancestors (privatized) as my full family file is way too large. My theory being that is enough generations for DNA matching and I only want ancestors for my DNA matches to look through.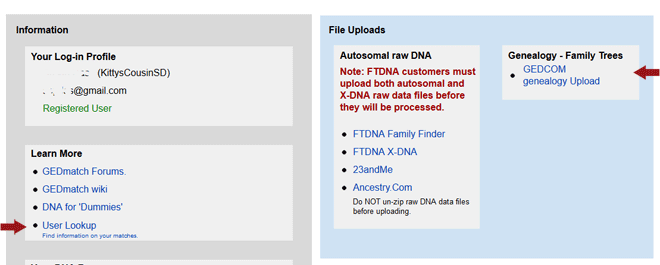 I have used red arrows on the above sample excerpt from a GEDmatch home page to show where to upload your GEDCOM file and where to click to do a user lookup.
Here is a the step by step example:
Continue reading →