Recently I gave a presentation on many of the great new DNA tools that have come out this year. The talk focused on how both Ancestry and MyHeritage figure out the likely ways in which you are related to a DNA match from the other trees on their sites (click here for my slides). This left very little time to go into the details of my favorite third party tools that can do similar magic, so I promised the attendees a blog post…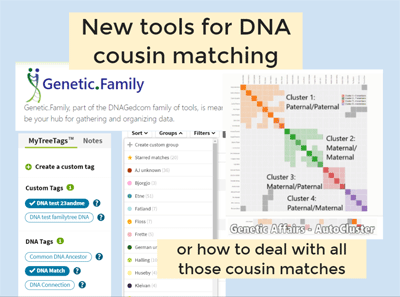 The three tools I use the most for finding common ancestors are:
They all have their strengths but none are free. Think of the endless hours professional programmers have spent making these tools and be grateful.
Mainly I use them for unknown parentage cases where the tree is not yet known. However they are also useful for your genealogy. For example, Genetic Affairs will look at the trees on Family Tree DNA and show you any common ancestors it finds with the path to your matches:
There are many other tools I could not do without, like the online relationship calculator at DNApainter (click here) but this article is about automation to find common ancestors. Read on for my summary of the strengths and weaknesses of each of the tools that do that.