One of the great mysteries of prehistory for me is how intelligent apes became modern humans. There are many fascinating books on this topic; most of them just guessing as the scientific evidence is slim to non-existent. However in recent years, breakthroughs in analyzing ancient DNA have given us some tantalizing hints.
First off, our closest ape relatives have 24 chromosome pairs while we have 23. Our chromosome 2 is a fusion of two chromosomes found in other primates. This is not as uncommon an occurrence as it might sound. All the same information is there, just repackaged. Thus the first 23 chromosome person could have children with a 24 chromosome mate. Wild horses and tame ones also have a one chromosome difference and can have offspring.. Plus there is wide variation in numbers of chromosomes among certain butterflies. Click here for an excellent article on this.
So how did having 23 chromosomes spread in the human population so that it became the norm? The answer is still unknown. Perhaps founder effect, genetic drift, or maybe there was an evolutionary advantage as yet undetermined.
So how did we start to think analytically, speak complex languages, and organize politically? Well a gene that is critical in language development was discovered a few years back – FOXP2. And the human one is different from apes. According to the wikipedia article (click here): "previous genetic analysis had suggested that the H. sapiens FOXP2 gene became fixed in the population around 125,000 years ago. Some researchers consider the Neanderthal findings to indicate that the gene instead swept through the population over 260,000 years ago, before our most recent common ancestor with the Neanderthals." The sources for these statements are footnoted in the original article.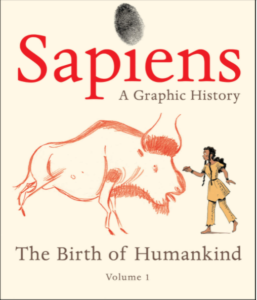 I really enjoyed reading Sapiens: A Brief History of Humankind by Yuval Noah Harari. It is a fairly easy read, well written and not too long. It talks about the development of humankind via the Cognitive Revolution followed by the Agricultural Revolution and then the Scientific Revolution. That humans are the only creatures with myths and imagined realities and of course writing.
I am currently working my way through The Dawn of Everything: A New History of Humanity by anthropologist David Graeber and archaeologist David Wengrow. It is far too long and could use better editing, but it is also fascinating. I enjoy the way it uses archeological and anthropological evidence to refute the generally accepted but simplistic view of the development of human society from hunter gatherer bands to tribes to states. It also takes some pot shots at Sapiens.
The book I recently read and enjoyed the most was about our genetic history: Who We Are and How We Got Here by David Reich. Fascinating to discover how mixed our ancestry really is including some "ghost populations." If you prefer the quick overview click the image below for the youtube video.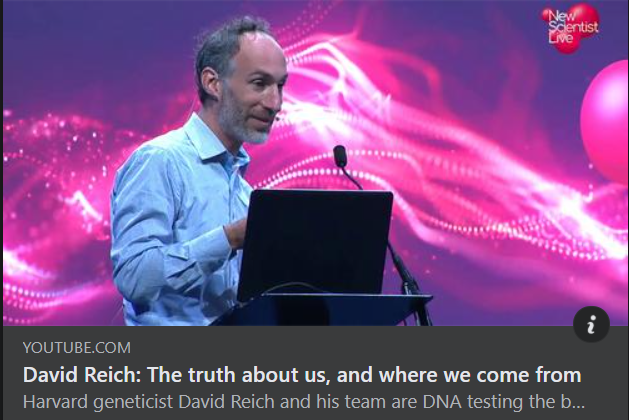 Personally I don't think that Neanderthals went extinct, rather that they were subsumed into us. None of us are pure anything in our genes according to Reich. I was once walking through an airport in France and saw a man who truly looked like a Neanderthal and no it was not for some advertising campaign!
Where do I find the time to read such books? I listen to them on my road trips. Thank you Audible (and Amazon Prime for those Audible credits)!