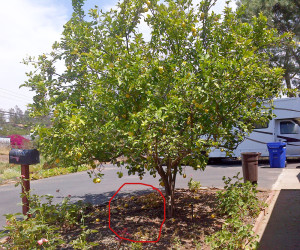 So we have way too many lemons and when life deals you lemons … time to make lemonade. In the photo on the left I circled where many lemons have fallen off the tree due to our hot weather spell. I have given away 3 bags of lemons in the last week and still have too many.
So I googled recipes for making lemonade and I was appalled by the fact that they all called for as much sugar as lemon juice. The basic recipe is 1 cup lemon juice (from 4-6 lemons), 1 cup sugar (best to make into syrup via hot water), and 4-6 cups cold water (depending how watered down you like it).
So I decided to try using that blue agave syrup that has been sitting in the cabinet. It was in packets and it took 14 little packets to get enough sweetness! And of course the flavor is a touch different than sugar but I think I like it.
After making the lemonade, you put it in the fridge for 30 minutes. Let's see if I still like it later!