Did you know that you can turn on icons in your Ancestry family tree that connect to your DNA results?
UPDATE 3-JUL-2022: Click on the fifth icon in the tree management list of icons on the left and a panel will swing in from the right (as shown in the image below) showing many icons that you can turn on including: ThruLines, Possible DNA Matches, and Connected DNA Matches. Just click the On/Off slider to turn each of them on or off. [N.B. There are now more options than the ones shown below]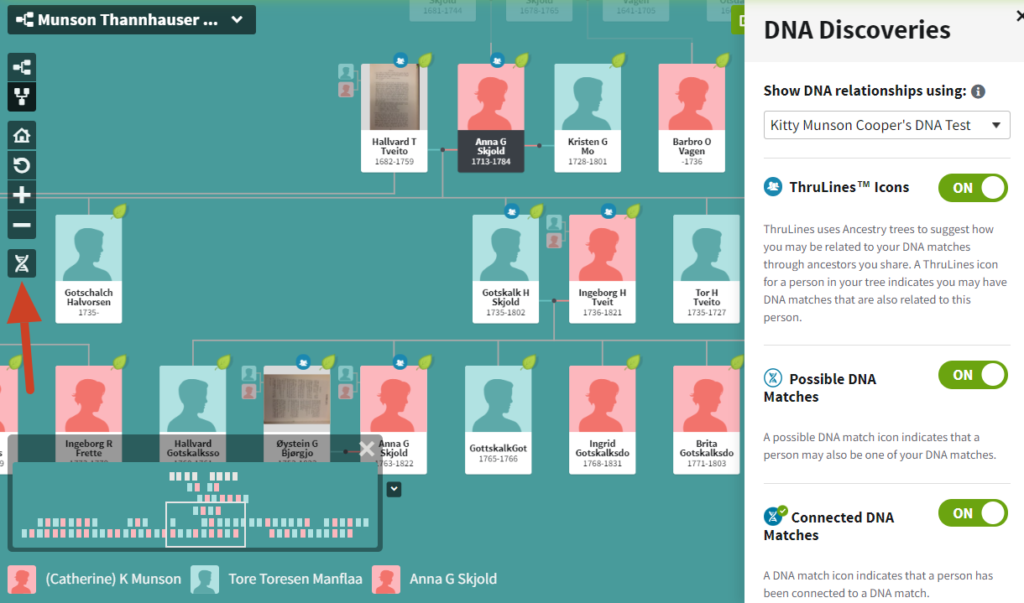 Turning on the DNA Discoveries Icons – red arrow showing where to click is my addition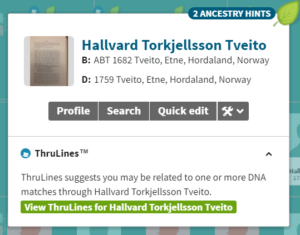 Of all those, I find the ThruLines icon the most useful because when looking at the boxes view in a complicated tree, I can easily pick out my ancestors because of the little blue ThruLines icons (as in the example above). Since my brother has tested, all my direct ancestors back to my 5th grandparents have that icon. In the past I had put my own icon in the suffix field. Then I used the direct DNA ancestor tag that Ancestry provides. It is so much less work having it done automatically for me!
Clicking on a profile with the ThruLines icon pops up a box with a summary of information about that person including, on the bottom, the word ThruLines with a down arrow to the right of it. Click either the down arrow or those words to expand the little window downwards, as shown on the left. and see clickable green highlighted words that will take you to the actual ThruLines page for that ancestor (example below).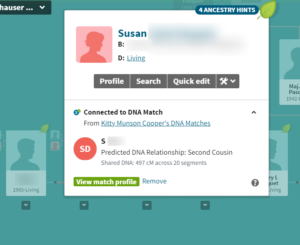 Whenever I get a new match that I can figure out, I connect them to that person in my family tree which results in the Connected DNA Match icon on them in my tree. When you click a person with that icon, you get a pop-up box that includes the words Connected to a DNA Match with a down arrow on the right. Clicking either those words or the down arrow gets a nice summary of the match, predicted relationship, total centimorgans, and number of segments. Plus you can click the green highighted words View Match Profile to go to the DNA match page with that relative.
When the feature to connect DNA matches to your tree first came out, I spent much time, while watching TV news, connecting my many known cousins to my tree. Click here for the blog post I wrote about that feature.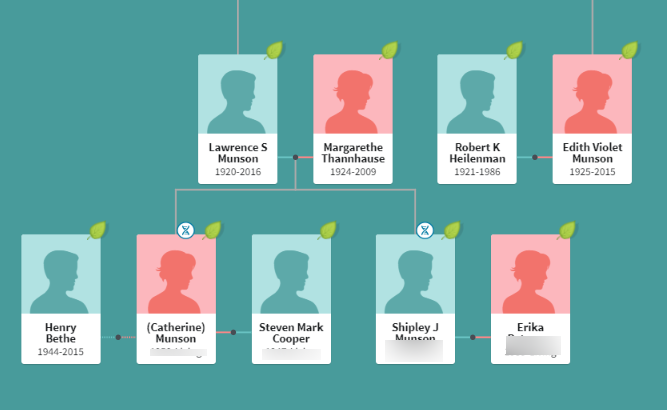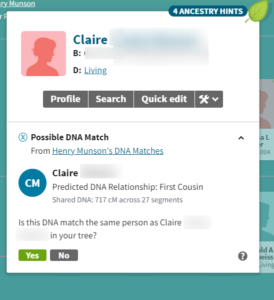 The fun new feature is the Possible DNA Match icon. Since I routinely connect all my relatives right away when their tests come in, I did not have that icon anywhere in my tree. Fortunately I have several less active cousins whose trees and DNA are shared with me as an editor. Looking through one of them I found that my known cousin Claire was marked as a possible DNA match in that cousin's tree, as were my brother and I. When I expanded the popup box for Claire, Ancestry asked if she was the same person as the DNA match of that name. Clicking the yes button connected the match to the person in the tree.
This feature could be quite useful for the people with good trees of their extended family who have recently DNA tested, thus having lots of these connections to make.