I am looking for more testers and some feedback on the colors. Click the read more for more images. Yes my data has a small bug for chromosome 1 and 9 :). In the actual tool mousing over the color tells you the ancestor, the segment size, and start and stop points. The actual output is much larger than the image below.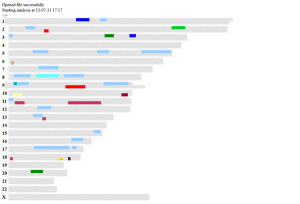 Here are the palettes I am using. I plan to have alternate pallettes including a gray scale for the color blind. The first one, red variations is maternal (yes the 8th and 9th colors are too close and I will fix that) and the second is paternal.
Here is a very colorful sample of the tool done by one of my testers!