The other day I found dozens of emails from my various genealogy and DNA mailing lists in my spam folder.  This was most annoying. In many email programs you can put email addresses on a "white list" so that they do not go to spam. With Gmail you need to use the filter function to make sure that emails from your lists never go to spam. Here's how.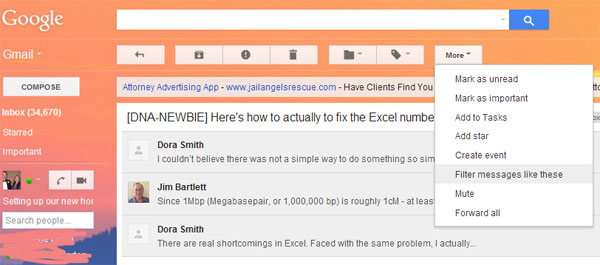 Open a message from the mailing list
Click on the More button above the emails to get a menu with "Filter messages like these" and click on that.
Another box will come up with the sending email or words that identify this message type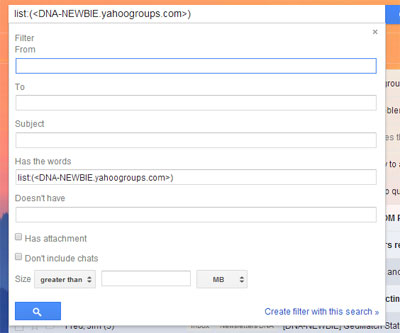 This is the box that describes your filter. Look it over then click the blue "Create filter with this search" on the bottom right of that box


The next box you see has all the options that you have for the filter on these messages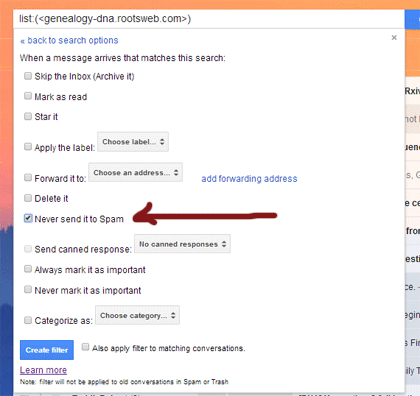 The important one is the checkbox called "Never send it to Spam" that I have marked with a reddish arrow. Check that box!
I also use labels for my filters but that is not necessary to accomplish this purpose.
Finally click the blue box that says "Create Filter" and your emails from this list will no longer go to spam.
Should you ever need to modify your filters you can get to them from the little gear icon on the top right and the Settings item on its dropdown menu. That gets you to a page of tabs where you can click the tab called filters to see all your filters and edit them.

Many of us who use multiple email addresses and have gmail set up to use those email addresses are now running afoul of the DMARC  (Domain-based Message Authentication, Reporting and Conformance) policy and so our emails get marked as spam.
http://en.wikipedia.org/wiki/DMARC
This may be part of the reason for the increase in emails marked spam (thank you Ann Turner for that insight).