Sometimes you might like to see a detailed picture of all the largest overlapping DNA segments on one chromosome. If that is the case, then try my One Chromosome Mapper tool at (the secure url is no longer working): http://kittymunson.com/dna/OneChromosomeMapper.php.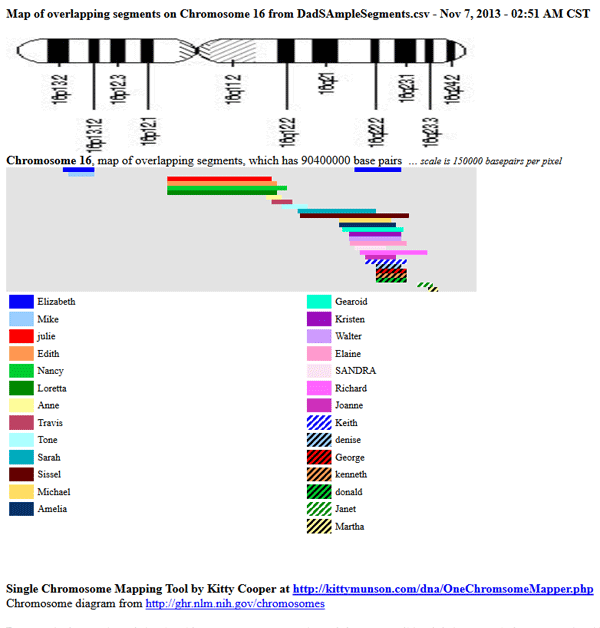 This tool will show you up to 40 people's overlapping DNA segments on the specified chromosome. As with my other tools, best to sort your CSV file by the largest segment. Then delete the lines with very small segments (less than 3cM) and then resort by start point to get the cascading effect in my sample above.
Note that there are popups that show the exact locations and cMs of each segment on the actual output. The NIH.gov chromosome diagram is to give a reference although the scale may not be perfect you can see when a match crosses that central bit called the centromere which means it may really be two segments.
As with my other tools, the column headings in your data file have to be exact (see below), although several variations are allowed, and the CSV format has to be PC compatible. If you are on a Mac please check the how to make a CSV article since this can be a problem. You can use the CSV file generated from countries of ancestry at 23andme or the FIA file from DNAgedcom.com without changes, although as always I recommend sorting by largest segments
The One Chromosome Mapper requires the column headings and contents as listed below, case sensitive, in any order, in your CSV spreadsheet
Current List of Required Columns in your CSV file for this Tool
Column name
Alternate Name
Must Contain this Data
Comparison
MatchName
or any column name you specify
This is the name to use in the chromosome map picture, you can tell the program to use a different column name for this.
Chr
Chromosome
Chromosome number 1-22 or X
Start
Start point
SegmentStartInMegaBasePairs
The starting number for the segment location used by 23andme and Family Tree DNA, in the 23andme ancestry these numbers are divided by 100,000 so check the box for decimal if you are using that style of number.
End
End point
SegmentEndInMegaBasePairs
The ending number for the segment (see above comment).
cMs
Genetic DistancecentiMorgans (cMs)SegmentLengthInCentiMorgans
The number of centimorgans in the segment, used for display purposes only. Since this is for display only you can put anything in this column for example I sometimes put a note then a dash and the cMs
| | |
| --- | --- |
| | Programming is how I make my living so a small donation of $5 or $10 via Paypal would be most appreciated, if you find this tool useful. |
7 Comments