Even if you haven't been carefully assigning sides and relationships to your DNA matches, Ancestry will now try to assign sides for you! As with the recent Sideview feature (click here for that blog post), it uses Parent 1 and Parent 2. However you can use the blue Edit Parent link to change them to Paternal and Maternal, if you can figure out from the matches or communities which is which.



If you click on DNA Matches in the DNA menu as shown above you go to a new page like the one for my matches that I show here (click it for a larger version). It separates your matches into parent 1 and parent 2 (or maternal and paternal if you have assigned those) plus Both sides and Unassigned. Newer matches since April will always be unassigned, as well as ones it cannot figure out (click here for Ancestry's explanation). You can see more surnames or communities by clicking on the blue View more in each panel. Clicking on All matches in the top menu bar will take you to the usual match page but now each match will have a side, both sides or unassigned listed underneath their relationship in the list. There are a few examples below. You can click on By parent to get back to this interesting new page. Clicking View matches in the first box for Parent 1 or any designation will show you your match list with matches from just that side.
I had delayed blogging about this fun feature because it was initially buggy and they took it down briefly. Also it is still in Beta test, so perhaps not everyone has it yet. Sadly there are still a few problems, so take your results with a grain of salt. Not surprisingly, people from endogamous populations are mainly out of luck with this new tool.
If you have already assigned a side, there will be a little circled i next to that side in your match list. If Ancestry disagrees with you, that label and the i will show as red and you can click on it to get a popup (also shown below) where you can change it. Strangely, it incorrectly questions my both sides designation for my full brother (proven by FIRs and his match with my Dad) as follows.

Since I have about a hundred people I have helped who have shared their DNA with me, I checked all of them with siblings. Only one other was wrong. However here is an example of a case where the daughter is listed as not related on both sides, which is clearly impossible: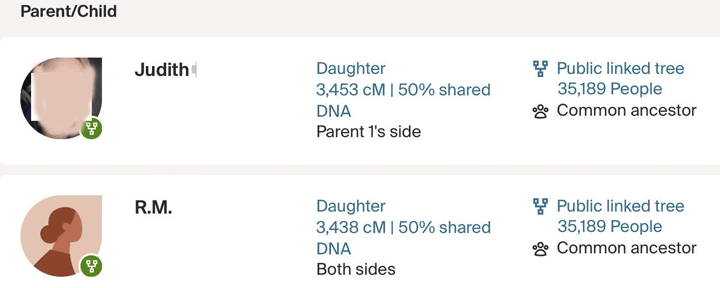 As with the SideView feature, this is very useful when your parents are from different ethnic groups. It makes it easy to separate your matches by side which could be a boon for unknown parentage cases.