Those of us who are tested at 23andme and have also done the Y STR test at family tree DNA may wonder when some family tree DNA project manager says "Test SNP so and so" whether that SNP is already tested by 23andme. This post explains how to figure that out. If I have already lost you, then this post may just be too technical or else not your cup of tea. To better understand Y testing read this Y lesson by Kelly Wheaton.
For a good explanation of what a STR versus a SNP is, read Roberta Estes' post – http://dna-explained.com/2014/02/10/strs-vs-snps-multiple-dna-personalities
So to figure out which SNPs my Dad has already tested, I first created the L11 subset image below of the R1b Y haplogroup SNPs from the beautiful diagram created for R1b by Mike Walsh because I need visuals: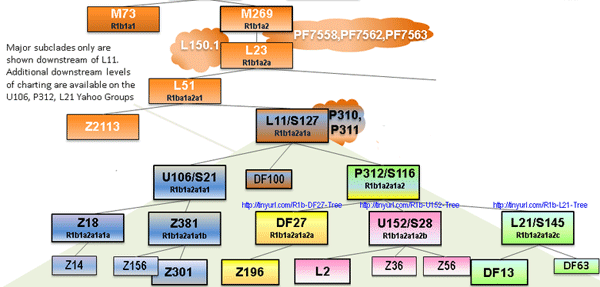 Back to the original question. My Dad is an R1b etc and 23andme uses a four year old haplogroup designator rather than the current ISOGG R haplogroup listing. A visitor to this blog suggested that we test DF100 because that is an interesting subclade we may belong to since we have these SNPs according to 23andme: L11/PF6539/S127, L52/PF6541, P310/PF6546/S129, P311/PF6545/S128.
The diagram shows that the possible downstream SNPs for Dad are U106, DF100, and P312. So how to find out if they are tested at 23andme? Since the haplogroup at 23andme shows L52 as the last SNP can I assume the others are tested?