All my favorite bloggers have posted good articles about the changes in the Ancestry.com
DNA pages. I have put a list of them at the end of this post.
The improvement in Ancestry's DNA matching has greatly reduced the total number of matches, which ran into the thousands for many of us. The theory is that their new algorithm has gotten rid of those matches that were unlikely to share a common ancestor in the genealogical time frame. I am hopeful. And the new DNA home page for a person is much nicer looking and more informative as you can see below.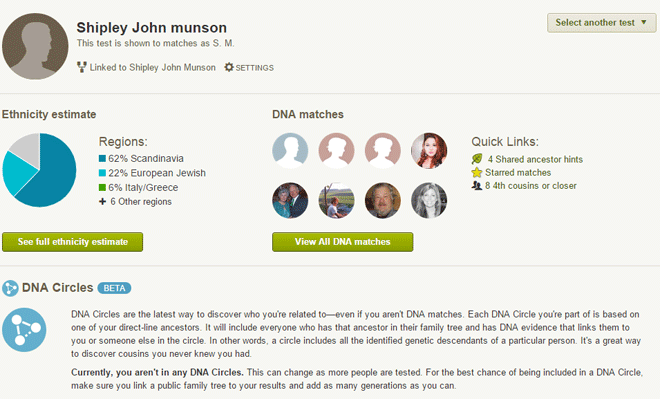 Looking at how my brother with one Jewish grandparent has fared, all his 4th cousin Jewish matches (dozens of those) are gone. This is probably correct. The few that I have been in contact with are not recently related.
He has some new Scandinavian 4th cousin matches, one of whom I can see is probably a double 7th cousin. Their line is from our somewhat endogamous Etne ancestors, many of whom seem to descend from the Skiftun/Koll clan while many others descend from the Galtungs via Ve and Fatland. We think we have identified a few Koll bits of DNA from the 1500s.
The shocking thing is that two of his green leaf DNA relatives have vanished. Plus one of his distant green leaf cousins has moved to the 4th cousin list. Yes she is related on the endogamous Etne line; she is a known 5th cousin twice removed, descended from the Ve family.
Working through the distant cousins that are high confidence 5th-8th there are only a few Ashkenazi matches and they seem to be German with surnames I recognize from peripheral branches of our tree. It will take me at least another week to work through these adequately for a more complete report. And although I have none of these new "circles," some of my shares do, so perhaps I can report on that later too
My favorite posts about the new Ancestry.com DNA
matching are:
Roberta Estes, Ancestry's Better Mousetrap – DNA Circles
Blaine Bettinger, Goodbye False Positives! AncestryDNA Updates its Matching Algorithm
Debbie Kennett, Improved cousin matching at AncestryDNA