Blaine Bettinger, one of the best presenters and educators on genetic genealogy, is coming to Carlsbad, San Diego, for a daylong seminar next week on Saturday, October 6. This is a wonderful opportunity to gather knowledge from one of the stars of the field. At the moment, there are still a few seats open.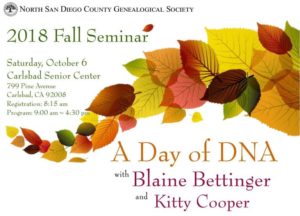 I will also be doing a workshop on working with your DNA matches that morning in Carlsbad. If you are interested in having your results be an example in my workshop, please contact me with some details.
The idea of a workshop is I talk briefly, then you try it yourselves. Then I talk some more. Then you try some more and we repeat again. So please bring your laptop or tablet or even make do with your smartphone and we will have fun! We will mainly work with Ancestry matches plus a little bit with GEDmatch. If you have not yet uploaded your DNA data to GEDmatch.com please do so. Click here for how.
Blaine's workshop about visual phasing will be at the same time as mine. Everyone loves this workshop at Jamboree so it is great to have it locally. Blaine is not only the author of several books on genetic genealogy and a blog, but he also runs a FaceBook group of about 46K members called "Genetic Genealogy Tips & Techniques." His latest endeavor is a web site for self paced learning called DNA Central.
If you cannot make it up to Carlsbad, then come hear me following Saturday Oct 13 when I will be talking to the San Diego Genealogy Society in the Lake Murray area.
Or if you are in New Mexico, I will be talking in Albuquerque New Mexico the following day, Sunday Oct 14!

There is an all-day DNA Workshop Sunday, October 14, at Congregation Albert. It is sponsored by Casa Sefarad@Nahalat Shalom in conjunction with the JGS of New Mexico.