The fun Southern California Genealogy conference in Burbank starts this Thursday. It includes a whole day dedicated to DNA! Many talks will be live streamed. Plus there are a few DNA presentations on other days and, of course, an exhibit hall.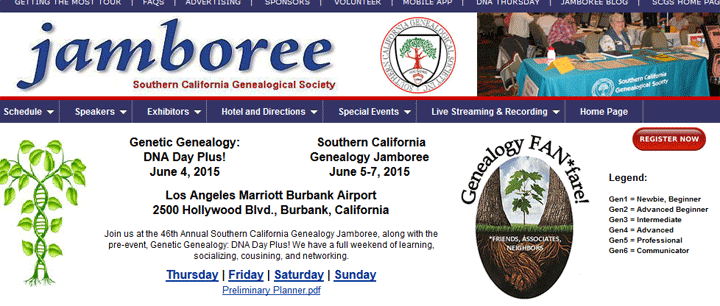 I have been working hard on my presentations which are on DNA day Thursday, plus I will be at a round table on Friday. This has seriously cut into my making blog posts. I have no less than three in progress articles waiting for me to have more time.
See the schedule for DNA day here: http://genealogyjamboree.com/2015/DNAday.html
My first presentation is at 11:30 am Thursday and I will tell two stories about how I broke brick walls in my own family: one with Y DNA and the other with autosomal DNA. Suitable for all levels and hopefully a fun talk.
The other presentation at 2:00 pm is an in depth presentation on how to do DNA triangulations with autosomal tests. Not for total beginners but hopefully interesting.
Hope to meet some of you there!