GENI.com has added DNA to its world collaborative tree not just by displaying haplogroups on profiles but also by using DNA to confirm relationships and to match you to other DNA kits. As always, GENI makes it look pretty. There is a DNA marker line in the top profile section that includes badges showing haplogroups and whether autosomal tests are available. Directly under the relationship path at the top it will also note when a relationship is validated by DNA!
Look at the top of my Dad's new profile below. Notice the Y haplogroup R-P312 and the AT badges in the DNA marker line and the part under the relationship where he really is my Dad.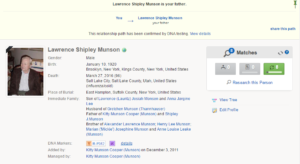 To get this I connected the GENI profiles for my Dad, my brother, and myself to our family tree DNA results. Since Family Tree DNA is partnering with GENI the data was available instantly via a login to the other site. One important trick is to log out of Family Tree DNA between doing each profile, else it claims you are still connected. I uploaded a few other DNA tests done at 23andme and Ancestry
for relatives who gave permission, but I am still waiting on those to finish processing [update it may be a month or more]. By the way, in order to upload test results for the living, I had to log into their profiles. Dead relatives that I manage or were in my family group were not a problem. I also uploaded my own 23andme results to make sure that I could have two tests on GENI.
You may wonder what you see if you click on the view details link, well it takes you to all the test and matches information you get in the new DNA tab as shown below.