Family Tree DNA has some terrific new features for its Family Finder matches as well as for its tree. The most exciting addition is the ability to automatically assign matches to your mother's and father's sides via close relatives, even if you do not have a parent tested.
In my case, my Dad is tested as well as two of my maternal aunts, so my aunts provide me with matches on my late mother's side. This is how my family finder match page looks now. Notice the Paternal and Maternal tabs each showing the number of matches assigned to that side. Also each match gets an icon indicating which side. Of course my brother is related on both sides. Clicking on a tab shows just those matches.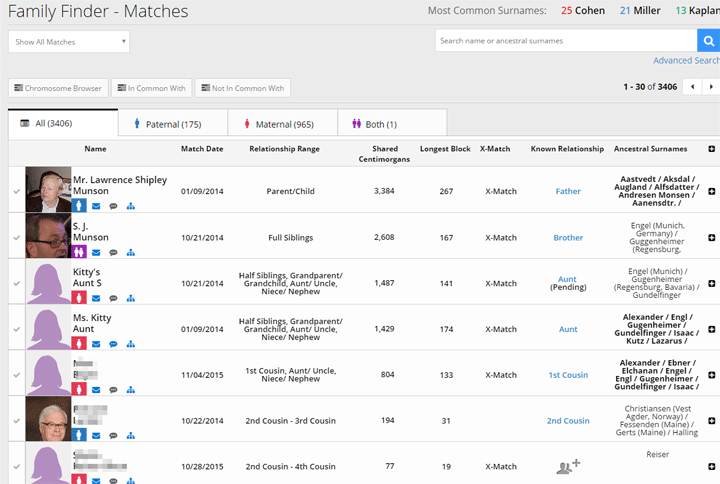 So how do you get a page like this? Well you need to assign your parents or other close relatives on your tree. If you do not have a tree at ftDNA yet, you can upload a GEDcom from your genealogy program.
Once your tree is there, go to it from your dashboard or the left hand myFTDNA drop down menu. Within your tree, click on the DNA matches button at the top left. Now a list of your matches will appear in the left column. Drag and drop any of those DNA relatives onto their spot on the tree or to their close relative and then specify sibling or daughter or … Here is a drag of my aunt to her spot on my brother's tree – the light blue box is being dragged from the left column into the tree.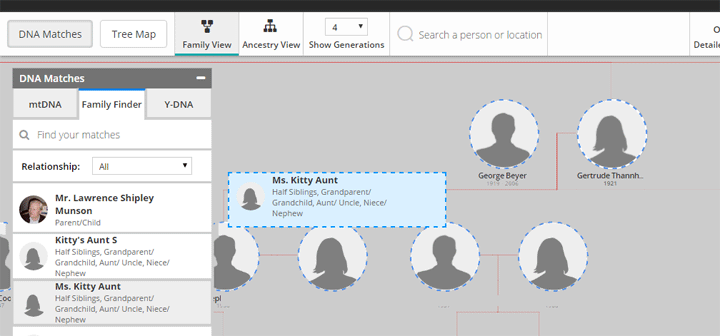 The screen you see when you drag a DNA match onto a person on your tree seemed to be a point of confusion for many in a presentation I gave the other day.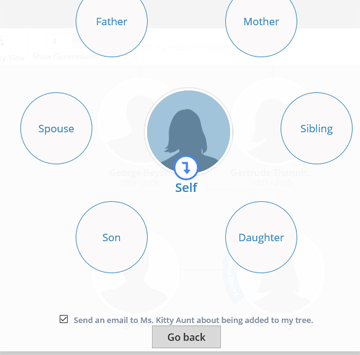 The key is that if you have dragged your match onto that same person in your tree click Self. This does not mean that this is you, but rather that the dragee is the same as the person you placed it on. This means that you can drag a close relative who is not in your tree yet, onto someone who is there, and then specify how they are related to that person. This is useful if you have uploaded a tree of just ancestors as I had done.
I was actually able to add a maternal aunt to my tree by dragging her onto my mother and then specifying Sibling.
By the way, the Known Relationship column on your match page does not seem to have any effect on setting up these maternal and paternal matches
Here are a few of my small complaints.
When you use the minus sign to make the tree smaller and then change the number of generations it goes back to the large size. It also goes back to the large size after dragging and dropping a DNA relative.
On the matches page, when you sort your matches by longest block it puts the smallest one first so you have to click again to resort and get it displayed by the longest ones. [seems to be fixed 7/13, thanks]
It does not save the checked folk from page to page in your family finder matches so you cannot show people from different pages together in the chromosome browser
Kudos to Family Tree DNA for providing detailed documentation with plenty of screen shots for all the new features at: https://www.familytreedna.com/learn/user-guide/family-finder-myftdna/matches-page/
A number of other bloggers have written about this. I particularly recommend Roberta Estes' blog post https://dna-explained.com/2016/07/07/family-tree-dna-introduces-phased-family-finder-matches/ and for those of us curious about how endogamy affects the maternal and paternal assignments, Lara Diamond's blog post is a must read:
https://larasgenealogy.blogspot.com/2016/07/ftdnas-new-phasing-tool-ashkenazi.html
UPDATE: I forgot to mention that the DNArboretum add-on for chrome will still create a nice ahnentafel (but you have to select ancestry view for more than 4, I use 10, else you only get up to number 32) from the new tree, you may have to click more than once on the person to get it. See my post on DNArboretum
Another Update: Family Tree DNA has published a help center article on this https://www.familytreedna.com/learn/ftdna/ftdna-family-matching-system/