Updated Chart August 8, 2020

The idea of a one world tree is to collaborate with other genealogists who are researching the same ancestors and so have just one copy of each person on the tree, rather than each of you having your own separate family trees. My plan is to compare the three online sites that I am using in this post.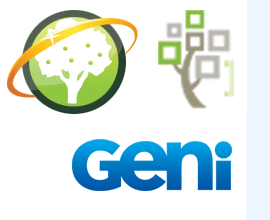 The advantages of using a one world tree are:
You are not constantly duplicating research that has already been done.
It is online and searchable so distant cousins will find you.
Other descendants of your ancestors may have pictures and documents to share that are already posted.
You will find distant cousins to collaborate with on some of your family lines who may be able to read records you are having trouble with or otherwise work with you to solve questions you have.
When you connect your line into the tree you may find new ancestors that you did not know about before.
You can often figure out immediately how you are related to a new "DNA" cousin.
It is easy to send family members and distant cousins links to the family tree.
After you are dead and gone your research will live on.
The disadvantages of a one world tree can be that:
Other people will change facts and information that you knew were correct.
How can you be sure that another person's research is reliable?
You need to be sure that living people have their privacy protected.
Personally, I have my family tree on three different one world tree web sites: FamilySearch.org, Geni.com, and WikiTree.com and I like and use them all for different reasons.
WikiTree has really pretty online charts, widgets for your website and shows DNA connections. It is the easiest one to use for sending possible new "DNA" cousins your family tree. GENI has the most intuitive user interface and has the best way to add source information. It is the prettiest of them all, plus it matches records with its partner site MyHeritage.com.  FamilySearch connects to its own enormous record repository and there is a wonderful third party web site for visualizing your familysearch tree: puzzilla.org.
WikiTree has the best gradated privacy controls plus no one can edit profiles you have added unless you let them in. They also have a photo of the week contest and you can get a regular feed of any activity in surnames you are following.
GENI has a clever system whereby volunteer curators manage famous or contested profiles, this is an excellent solution to the problem of people updating profiles incorrectly. It has record matching with MyHeritage (requires paid membership there to use) which is particularly good on foreign records.
Both WikiTree and GENI have many projects that you can participate in as well.
FamilySearch requires you to log in to see the details on the tree. It has none of these good controls yet, so you may find yourself fixing your tree there regularly. However it has great free record matching to its enormous database and a great wiki which can help you with your research as well as allowing you to contribute.
All of these one world trees have their flaws. You cannot download a GEDCOM from familysearch without additional software (some free and some paid  programs are available) and you cannot upload a GEDCOM to GENI. FamilySearch has only 5 generations up on its relationship showing feature. GENI is not free if you want to get the most out of it and to do that you will want to join MyHeritage as well, for the record matching.
After you have uploaded your GEDCOM, both WikiTree and FamilySearch make you check each person for duplicates before they are added to the tree. The process is more streamlined with WikiTree and involves their volunteers checking it too.
So here is the chart I made comparing the important features of each. I keep this updated [update done 24 Dec 2020]
| Feature | FamilySearch | Geni | WikiTree |
| --- | --- | --- | --- |
| Upload GEDCOM | Yes | Yes partial | Yes but line by line |
| Download GEDCOM | With software | From profile you manage | Yes if trusted |
| Tool to copy profile from another site | No | Yes, a family group – SmartCopy | Yes – a profile – WikiTree-X |
| Finds Duplicates Automatically | When adding new person | Yes | When adding new person |
| Finds Record Matches Automatically | Yes, listed on person page | Yes | No |
| Displays relationship paths | Yes | Yes, prettiest | Yes and mutiple pathways! |
| Shows DNA relationships | No | Yes with ftDNA | Yes with GEDmatch |
| Easy to add sources | Yes | Best | Yes |
| Free? | Yes | Yes but more features for paid members | Yes |
| Special Projects? | No | Yes | Yes |
| Google finds ancestors | No | Yes | Yes |
I think there is something to be said for using them all if, like me, you love family history. Otherwise please pick the one with the features that most suit you and share your family tree, photos, and stories with the world. You may have cousins out there who will be delighted to discover those treasures.
Here is my gg-grandmother's profile at GENI showing how nicely they do the relationship showing part (anything in blue is clickable on the site):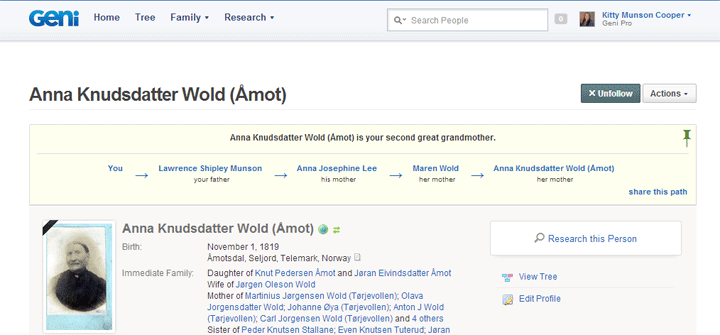 [Editor's Note] Although this post was written a while ago, I have been keeping the features updated. Also I often give a presentation on using a one world tree.]