I am very excited that WikiTree now lets you tag uploaded photos as sources so that you can separate family photos from source material. This makes it easy to look at just one group or the other. I had asked for this feature and am delighted that my request was granted.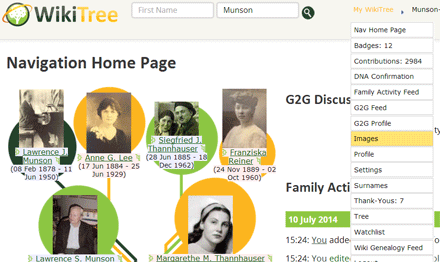 This was one of the things that I had felt that GENI did better.
I like to upload sources in order to share them with family. Marriage certificates, death certificates, draft cards, emigration lists, among many. One of the things I particularly like about WikiTree is that my relatives do not have to log in to see public information like these documents and family photos.
There is also a very nice feature where you can scroll through all your photos. The pull down menu under "My WikiTree" has an item called images. Click on that and you can look through all the images you have uploaded, ten at a time. Plus at the bottom of that page you can select different ways to sort them. I just used this feature to go through all my images and mark those that are sources as such.
Here are a few links to our family trees at WikiTree:
Munson: http://www.wikitree.com/genealogy/Munson-Family-Tree-2238
Thannhauser: http://www.wikitree.com/genealogy/Thannhauser-Family-Tree-13
Skjold(Lee): http://www.wikitree.com/genealogy/Skjold-Family-Tree-5
Wold: http://www.wikitree.com/genealogy/Jorgendtr-Family-Tree-1