Sharing DNA results at Ancestry is very useful when you want to see how much your relative shares with other relatives. All that this sharing allows you is the ability to see their match list, their ThruLines, and their ethnicity results, not their raw DNA nor the ability to download it.
Being able to see a cousin's ethnicity may help figure out which side of the family that Finnish DNA is from or whatever puzzling ancestry you are interested in. Seeing their match list can be extremely useful for solving a mystery or just for the fun process of collecting family data.
For years I have been referring my cousins to an old blog post kindly written by genetic genealogist Angie Bush which explained how to initiate a share. However by now the screen shots are long out of date, so here is a new step by step for this process created by sharing my results with my brother.
1. Go to your DNA home page by clicking on Your DNA Results Summary in the drop down menu under DNA in the top menu (see my pink arrow)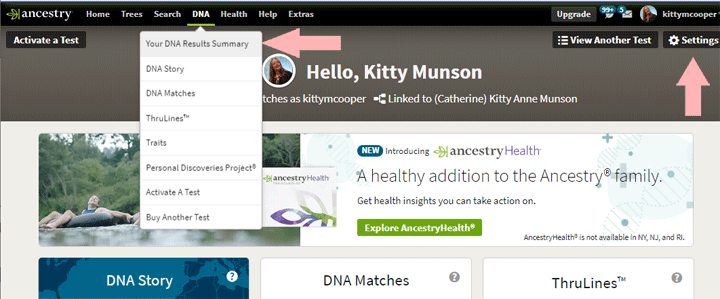 2. Click on Settings at the top right of the page (another pink arrow)