The more large segments you share, the more closely related you are to a DNA match. To learn more about segments, read the blog by one of my favorite DNA writers on the yahoo DNA-NEWBIE list, Jim Bartlett, called Segmentology.org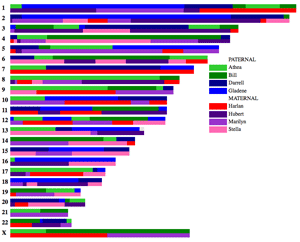 He explains why you share such large chunks of DNA with your closer relatives by showing how recombination works and how few cross-overs there usually are in a recent post at  http://segmentology.org/2015/05/24/segments-bottom-up/
While the total amount of shared DNA in centimorgans (cMs) is a fine indicator for your closest relatives out to second cousins, farther relationships can be more and more random in the amount of shared DNA. You can consult the charts and numbers at ISOGG here – http://www.isogg.org/wiki/Autosomal_DNA_statistics – to determine those closer relatives.
Although I like this new chart from Blaine Bettinger the best:
[UPDATE 16 May 2018: I now recommend the DNApainter calculator based on Blaine's work shown above and Leah Larkin and Andrew Millard's calculations at https://dnapainter.com/tools/sharedcmv4 ]
Note that since you share about 25% with an aunt, uncle, grandparent, grandchild or half sibling the amount shared cannot tell those relatives apart [UPDATE 20 Oct 2017: See my study results showing that paternal half siblings can be told from the others here http://blog.kittycooper.com/2017/09/the-25-relationship-a-first-look-at-the-data/ ]. Sometimes the X can help distinguish those, see my post on that here.
Frankly the testing companies are not that accurate in predicting your more distant relationships, those past 2nd cousins. So when deciding which DNA matches to pursue, follow up on the ones with more than one large segment; those are your closer relatives, the ones whose trees may be easier to connect to yours.