So what is the impact of MyHeritage doing the family trees for 23andme? We can all agree that the previous family trees at 23andme were difficult to use. So this has to be an improvement, right? Maybe not.
To try it, I connected my own 23andme account to my existing MyHeritage tree and then looked at it from my aunt's account, after logging out of MyHeritage. It was hard to find it on my profile. All the way at the very bottom were the words Family Tree next to which were the linked words View Kitty Cooper's Family Tree. When I clicked on it I saw this: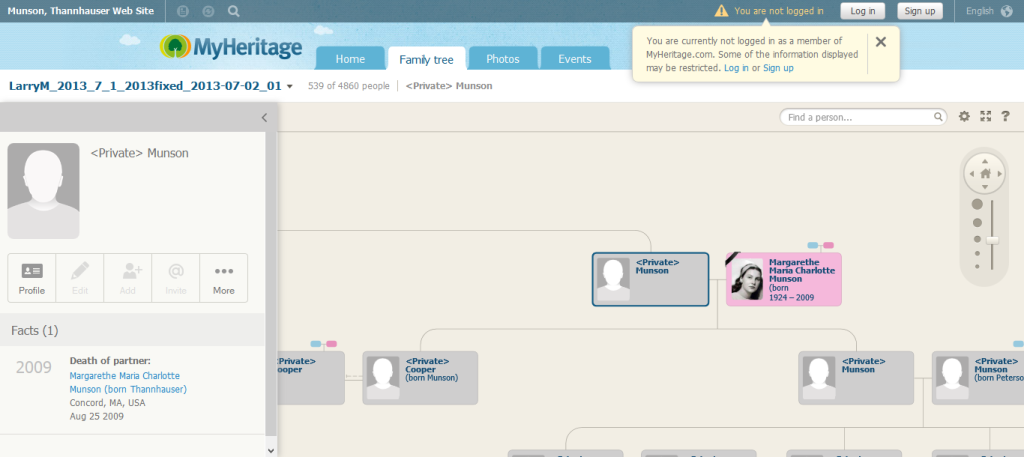 Oops. My Dad is set as the home person. Maybe Google can help me figure out how to change that. Clicking on the image above will take you to my tree so you can judge for yourself how well you like it.
MyHeritage is an excellent site in many ways, but to take advantage of the record matching you have to buy a premium membership. Also if you want more than 250 people in your tree, payment is required after those first free 6 months for 23andme folk. The premium or data membership gives access to many European records not on ancestry and also some newspaper articles I have not seen elsewhere.
For me, the biggest issue with MyHeritage is having no pedigree view on the family tree. When generation after generation had eight or more children, their tree view is very unwieldy.
In the rest of this post I will walk you step by step through setting up your 23andme tree at MyHeritage which you must do by May 1, 2015 to take advantage of the offer.

First I tried to transfer the family tree for my Aunt. I clicked on Family Tree under Family and Friends and saw a new page that says "Same Family. New Tree" then some words and the MyHeritage logo. Its a long page which includes an introductory video at the bottom. I tried to view the video but got an error. It told me to try again later.

At several points on this long page there is a big green Start Now button. Clicking that button takes you to a new page where you have to verify your 23andme login information.
After that verification, you arrive at a page that asks for permission to grant access to the various family information from your profile. Once you click the Grant Access button, the next page has another Get Started button or the option to upload a GEDcom.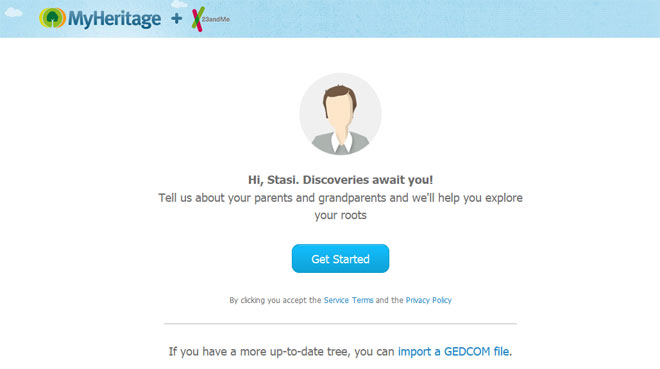 I clicked the Get Started thinking it would transfer her existing tree. No such luck. A page with just her and slots for filling in her parents and grandparents appeared.
Apparently I did not have a tree on her profile? I thought I did but found no transfer option. So I decided to upload a GEDcom and clicked the back button in my browser. Since free trees require less than 250 people, I exported my aunt's ancestors but only one generation of descendants from my family file in my genealogy program.
Clicking import a gedcom let me find the gedcom file on my computer and upload it. The next page told me I would get an email once it was processed. The  email came right away. The link in the email took me to a page which required a login and had my aunt's email address already filled in. Her 23andme password did not work so I had to ask to reset the password. It required that email address again plus a phone number. At least that email came right away. It had a link to reset the password. That worked fine.
Now I see a home page for my aunt at MyHeritage.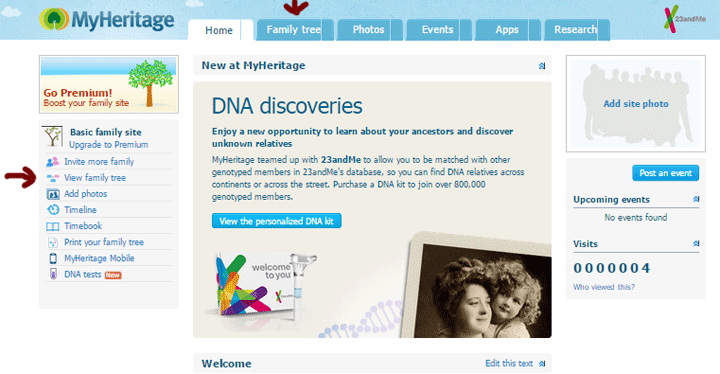 When I click on View Family Tree, it wants me to set the password again. Okay, I use the same one so I won't get confused. But this tree is a blank one with just my aunt. This must be because I tried the getting started button, thinking it would transfer my existing tree which it did not. Where is the tree from the GEDCOM? The tab Family Tree at the top of her home page has the option Manage Trees which I use to get to a page where I can change the default tree to the one I uploaded.
Now to log in as me and see if I see her tree. To make it a good test, I log out of MyHeritage first. I go to her profile and it is not there. There must be more to do. So I log into her account again, and click on Family Tree under Family and Friends. Then I see a big banner asking me to update my profile settings or choose to keep my tree private.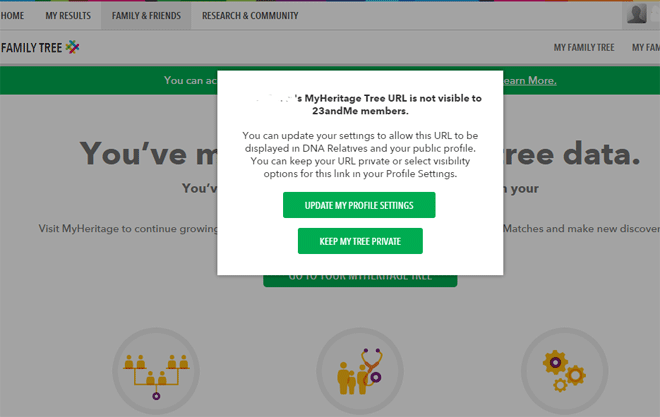 After I click on the green Update My Profile Settings I am taken to her profile page which now has a MyHeritage URL in the box Family Tree URL and a pulldown selection box to the right where I can decide who can see it: only me, only my connections, or all 23andme members.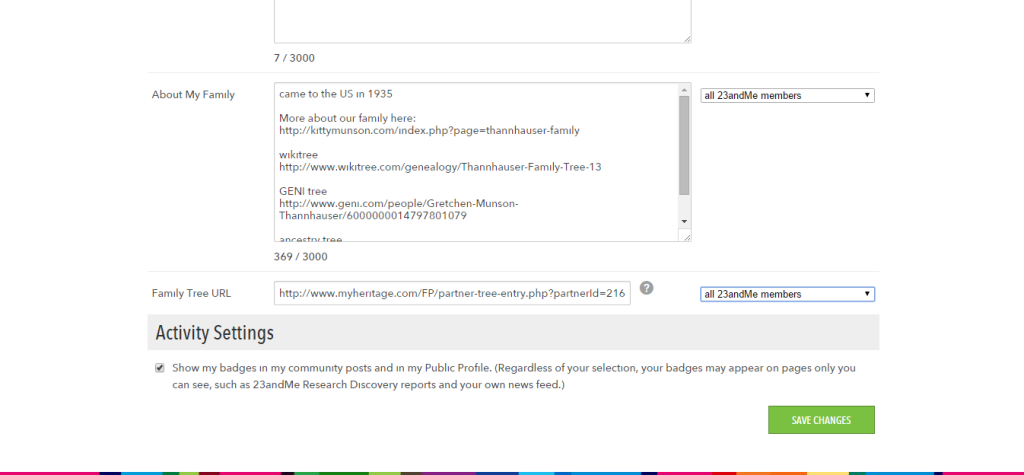 I select all and click the green Save Changes button at the bottom of the page (very important!).
Once more I log into my account and look at my aunt's profile. Success at last! I see the words Family Tree URL with a clickable URL next to it. I click it and see her new MyHeritage tree. Aaargh!! My Dad is her home person too! Next time I will change the home person before exporting from my genealogy program.
One more thought, her sister, another aunt, is in the same account, will it have that URL set up already? I login as my aunt, switch profiles, and check. The URL is there but the privacy is set to only me. I change that to all and save those changes.
My conclusion is that it is best for me, with some 10 family members in separate accounts at 23andme, to put the URLs for our online trees in our profiles rather than go through all the steps above. I have put WIKItree (free and best for DNA), GENI, and Ancestry.com
URLs on most of my family profiles already.
However if you have never used MyHeritage before, you may enjoy trying it out. Their free genealogy program for the PC is quite good. I particularly like its consistency checking feature which is very useful for finding children born before their parents and other problems in your data.