I will be doing a talk on GEDmatch Basics for the Family History Fanatics (FHF) Winter DNA Conference. UPDATE: 25 Jan 2021: I have received screen shots of the new look coming soon to GEDmatch; these will be featured in my presentation.
They also have a youtube channel (click here). Here is the Press release from FHF:
KICK OFF THE YEAR RIGHT
Saturday, 30 January 2021 beginning at 9:45 AM Eastern Time.
If you can't attend the event during the live sessions, you'll have access to the replay for 30 days.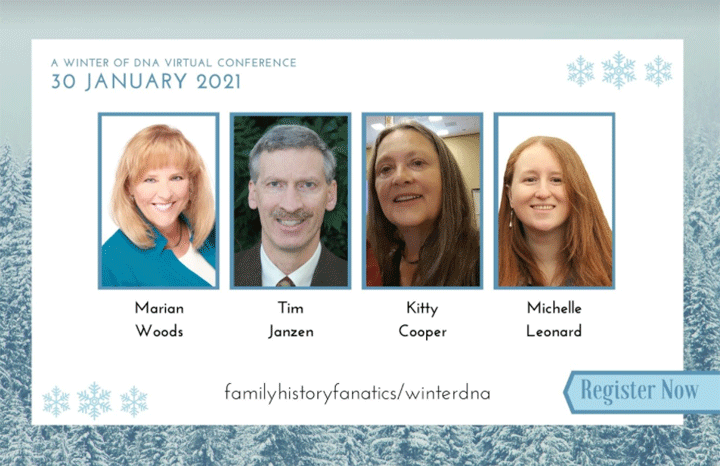 TOPICS & PRESENTERS
DNA & Law Enforcement – Marian Woods

GEDmatch Basics – Kitty Cooper

Tracing Ancestral Lines in the 1700s Using DNA – Tim Janzen

A Guide To Chromosome Browsers & DNA Segment Data  – Michelle Leonard
 AFTER THE SESSIONS
The four panelists will return for a "test your knowledge' competition and then more of your unscripted rapid-fire questions. 
Early bird pricing is $19.99 until January 22nd. After that, pricing will increase to $24.99. 
When you register, you'll be entered to win genetic genealogy-related door prizes. 
To learn more and register visit, www.familyhistoryfanatics.com/winterdna. 
Family History Fanatics is a genealogy education company that is focused on putting the fun into online learning. See the difference the FHF Group puts together for you.