Finally! The video of the GEDmatch basics talk I did on May 26 for Verogen is now available. Best to view it full screen at youtube in order to see the images well.
Click here for the slides for that talk
GEDmatch, a DNA tools site, was originally created to compare GEDCOMs, a function you can still use it for. A GEDCOM is a plain text file of your family tree formatted so that any genealogy program can understand it. Click here for the wikipedia entry explaining this in more detail.
In my talk I emphasized that it is best to upload a privatized GEDCOM with no more than 10 generations of ancestors then connect it to the DNA test for that person. This will help you use the relative matching tools. I promised in the presentation to explain how to create a GEDCOM. So here are a few of the many ways.
Easiest is if you have a desktop genealogy program like Family Tree Maker or RootsMagic. Most of these programs have an export function where you can specify which people to export. In this case you want just the ancestors of the kit you have uploaded. Click here for the how to in Family Tree Maker and here for the how to in RootsMagic. If you use another program then just google how to split a family tree and the name of your program.
If you or your relative have a tree at MyHeritage, there is a chrome add on called pedigree thief that will make an ahnentafel list from a pedigree style listing of the tree. Cut and paste that result into a text file and privatize it by removing the birth day and month from the living as well as changing their first name to "Living." Next you can use the tool I wrote to convert that file to a GEDCOM – Ahnen2GED (click here)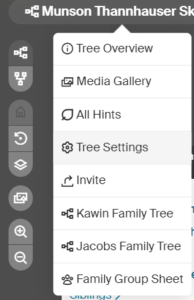 If you have a tree at Ancestry, you can download a GEDCOM from the settings on that tree. scroll down that page until you see the words "Manage your Tree".


However since it will be your whole tree, it may be too large. If you need to make a smaller version, there is a tool called GEDsplit which I have successfully used in the past. You can get it here kiwitrees.net/downloads/. Sadly Ancestry has disallowed the use of Pedigree Thief on its site.
If you have a tree at WIKItree (a free online collaborative tree with many DNA features), you can export a GEDCOM of a person's ancestors and even privatize it. Click on GEDCOMS in the My Wikitree menu and then on the tab Download a GEDCOM
If you have a tree at GENI (another online collaborative tree with free and paid memberships), you can only download the tree of a person you manage with a paid membership. However there is a work around to get anyone's ancestors into a GEDCOM. On the actions menu of the desired profile, click Ancestor Report. On that next page you can select the number of generations to show, try 10. Then use the pedigree thief addon to get an ahnentafel list of those ancestors. Before converting to a GEDCOM using my Ahnen2GED tool, you must remove any commas in the dates so for example May 28, 1931 will not work correctly. Make it just 1931 or 28 May 1931. Eventually I will change the program to fix this issue if enough people complain!