Sometimes DNA can reveal an ugly truth. A reader, let's call her Patty, asked me for help explaining the unusual looking comparison of her DNA test results with her uncle Bob's results. The surprising thing was the large number of green bars that she saw in the GEDmatch one to one comparison, indicating fully identical segments (FIRs), almost as many as a full sibling would have. How could that be?
Of course my first thought was that Bob is actually her full brother, that her mom, Janet, had a child out of wedlock who was raised by the child's grandparents, Mona and Dick, as their son. This has happened in many a family. But that was not the backstory. Janet was a small child when her brother Bob was born. Bob and Patty also share just one segment of 27 cM on the X chromosome, which, of course, would be normal for a maternal uncle but low for a brother. Have a look at the comparison image from GEDmatch for chromosomes 1-22: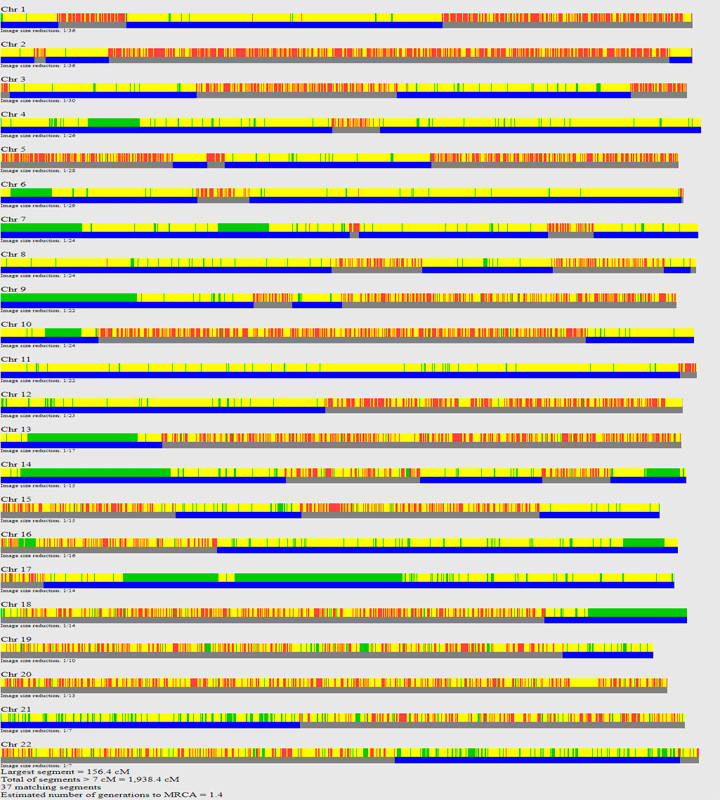 Thoughts? Usually only full siblings or double first cousins will have numerous fully identical segments, so what could this be? Obviously Patty's dad would also have to be a close relative of Bob's for there to be so many FIRs. A full sibling would usually show even more of them, however.
Here is what Patty told me:
"I am trying to determine if my mother's father is her biological dad (which we have been told he isn't). Unfortunately my mother has passed away. My mum's brother just did a DNA test to help me. Here's the thing, I have now found out that possibly my father is not my biological father and that my Mum's stepfather could be. How many cMs could I expect to see from my uncle who could be my half brother as well ?"
Oh my! Her uncle Bob is likely both a maternal half uncle and a paternal half brother! This would certainly explain the DNA picture that we see above and those FIRs. Patty's mother Janet is only the half sibling of Bob (different dads) while Patty shares her biological father Dick with Bob … Part of me is hoping that Dick knew he was not the biological dad when he had relations with his daughter. Needless to say this is a very difficult situation and I really feel for Patty.
I checked Patty's kit at GEDmatch and her parents were not related. That confirms the fact that Patty's father was not the biological dad of her mother Janet.
A half brother is expected to share about 1700cM (range: 1300-2100*) and a half uncle would be about 850cM (range:540-1172*) thus a total of about 2550cM for this relationship. However some of that will be fully identical which does not show in the totals. Also due to the randomness of DNA recombination, the amount of shared DNA can vary widely. Below are the numbers: they share 1,938 cM which works as a sum of the low ends of both ranges. Notice that there are 6 segments larger than 100 cM which is indicative of a very close family relationship.
I informed Patty that the DNA results were consistent with the expected two half relationships. Since this was such an unusual case I wanted to share these results so we could all learn from them. She gave me permission to publish this as long as no real names were mentioned. So here are the results.
| | | | | |
| --- | --- | --- | --- | --- |
| Chr | Start Location | End Location | Centimorgans (cM) | SNPs |
| 1 | 742,584 | 15,151,014 | 33.8 | 2,901 |
| 1 | 36,794,897 | 166,723,443 | 114.3 | 16,167 |
| 2 | 17,572 | 7,438,761 | 15.0 | 1,701 |
| 2 | 10,325,386 | 29,737,223 | 26.9 | 3,234 |
| 2 | 236,852,673 | 242,656,041 | 12.0 | 1,118 |
| 3 | 1,503,588 | 42,160,139 | 62.3 | 7,965 |
| 3 | 114,421,336 | 187,316,984 | 74.7 | 9,962 |
| 4 | 61,566 | 89,970,314 | 102.7 | 12,253 |
| 4 | 105,009,156 | 191,140,682 | 100.7 | 11,900 |
| 5 | 38,763,975 | 55,450,713 | 7.7 | 1,367 |
| 5 | 59,553,633 | 122,019,706 | 55.6 | 8,230 |
| 6 | 148,878 | 34,056,602 | 55.8 | 8,089 |
| 6 | 45,686,882 | 170,174,546 | 119.1 | 17,805 |
| 7 | 140,018 | 75,084,062 | 86.4 | 11,907 |
| 7 | 77,713,235 | 128,952,569 | 42.7 | 6,429 |
| 7 | 138,369,771 | 158,737,504 | 40.2 | 3,584 |
| 8 | 154,984 | 62,798,716 | 77.4 | 11,278 |
| 8 | 87,204,442 | 122,213,448 | 28.0 | 4,442 |
| 8 | 140,045,364 | 144,366,148 | 8.5 | 895 |
| 9 | 36,587 | 33,563,212 | 59.0 | 7,903 |
| 9 | 73,125,986 | 81,541,866 | 11.2 | 1,549 |
| 10 | 103,934 | 12,628,123 | 29.7 | 3,311 |
| 10 | 120,535,155 | 135,218,153 | 33.3 | 3,716 |
| 11 | 189,256 | 132,307,971 | 156.4 | 21,246 |
| 12 | 61,880 | 64,313,482 | 81.5 | 10,602 |
| 13 | 18,073,279 | 35,950,411 | 35.5 | 3,899 |
| 14 | 18,397,823 | 55,888,596 | 53.6 | 6,072 |
| 14 | 74,804,224 | 90,253,595 | 19.6 | 2,606 |
| 14 | 96,230,134 | 106,305,044 | 21.4 | 1,609 |
| 15 | 40,023,398 | 58,460,982 | 16.9 | 2,673 |
| 15 | 90,439,197 | 100,206,215 | 32.1 | 2,571 |
| 16 | 21,147,979 | 88,668,856 | 88.9 | 10,496 |
| 17 | 3,710,323 | 78,629,112 | 125.5 | 12,548 |
| 18 | 63,437,734 | 76,098,043 | 30.0 | 2,840 |
| 19 | 58,491,471 | 63,779,291 | 17.0 | 1,283 |
| 21 | 9,993,822 | 29,449,648 | 32.2 | 2,977 |
| 22 | 35,306,921 | 48,227,483 | 30.8 | 2,837 |
Largest segment = 156.4 cM
Total of segments > 7 cM = 1,938.4 cM
37 matching segments
Estimated number of generations to MRCA = 1.4
* cM ranges for close relatives from the work of Blaine Bettinger as listed on the ISOGG wiki