Today the new DNA site – DNA.land – did a major update which vastly improved the display page for matching relatives and also got rid of the false matches that we all initially saw.
Personally, I love the concept of crowd sourcing DNA science. This new site, created by a team at Columbia University, promises on its about page that you will "learn more about your dna and contribute to important scientific research." It is also "in partnership with the National Breast Cancer Coalition (NBCC) to better understand the genetic risks of breast cancer." So of course I had to try it out. I uploaded the raw DNA data for my Dad, myself, and one aunt in the first day of its operation.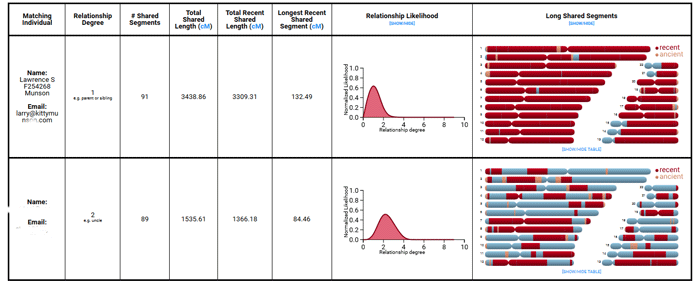 On the day after I uploaded, I was able to look at the matches page. My matches to my Dad and a maternal aunt are shown above. I like the compact display of the chromosomes on the right and was fascinated by the "ancient DNA" concept. An improvement today is to show the longest segment. I find having at least one large segment, more than 20cM, to be an important indicator of a close relative especially when combined with total cM or even better "Total Recent cM."
As of today you can click under the image to get a table of the actual matching segments. This table was easy to cut and paste to a spreadsheet. Aternatively the whole page can be cut and pasted (Control-A to select, Control-C to copy)
You are shown only top 50 matches in their database. Initially it was 20 so I did not upload the 20 or so kits I control. In the first week there were many false matches, but now those are gone and my only matches are my known relatives. The database is now at about 6000 and it seems to grow by just under a thousand each day.
According to their FAQ "DNA.Land imputes your genome, which opens the possibility of seeing genetic variations that were not part of the original file. It is similar to getting whole genome sequencing data (albeit we still miss some rare variations) without investing thousands of dollars."
My initial impression is that the site is very attractive but is not very useful yet. I am impressed by how quickly they improved the relative matching, so I look forward to their future features and improvements.
My ancestry composition gave much less of a breakdown than my 23andme or GEDmatch displays. Here is the comparison:
Addendum: I forgot to mention my suggestion to put your GEDmatch id as a middle name (part of your first name) so that your matches can cross check the match over at that site.
Other blog posts about DNA.land:
Cece Moore announced it, she helped advise them:
http://www.yourgeneticgenealogist.com/2015/10/dnaland-launches.html
Judy Russell analyzed the privacy statement:
http://legalgenealogist.com/blog/2015/10/11/the-rules-of-dna-land/
Randy Seaver described how to upload your DNA data:
http://www.geneamusings.com/2015/10/dnaland-launches-new-3rd-party-dna.html
And here is a good descriptive article about the site published in the Atlantic:
http://www.theatlantic.com/science/archive/2015/10/crowdsourcing-site-dnaland-attracts-a-genome-a-minute-on-opening-day/410533/