The DNAgedcom website has a wonderful feature whereby you can download the overlapping segment data for one of your matches with all your other matches at 23andme. Since it will include you in the CSV file, you can quickly see if you and your share both match another person at the same spot (called triangulation by genetic genealogists).
Here is a sample of that type of match from the resulting sorted spreadsheet for an adopted close DNA relative I am working with (names of non-family removed for privacy):
| Comparison | Chr | Start point | End point | Genetic distance | # SNPs |
| --- | --- | --- | --- | --- | --- |
| Adoptee CR vs 1st cousin GP | 5 | 113000000 | 124000000 | 11.8 | 2217 |
| Adoptee CR vs me | 5 | 114000000 | 121000000 | 7.2 | 1401 |
| Adoptee CR vs Dad | 5 | 114000000 | 124000000 | 11.2 | 2038 |
| Adoptee CR vs my brother | 5 | 114000000 | 124000000 | 11.7 | 2112 |
| Adoptee CR vs SS | 5 | 115000000 | 123000000 | 8.9 | 1602 |
| Adoptee CR vs EJ | 5 | 116000000 | 123000000 | 6.8 | 1391 |
| Adoptee CR vs AH | 5 | 116000000 | 123000000 | 7.8 | 1482 |
| Adoptee CR vs AC | 5 | 117000000 | 124000000 | 7.4 | 1421 |
The four other matches are a bit small but the one with SS is mildly promising; so to be absolutely sure it is a triangulation I have to compare SS back to my family members. Here is how that looks in the 23andme chromosome browser (which can do three at a time with any of your shares):


And we see that the overlap with me is just a little bit too small to show up, less than the 23andme threshold, but my Dad and brother are a triangulation.
So read on to find out how to use this download feature at DNAgedcom.com.
First you have to log into the DNAgedcom.com site (free but donate if you like it). If you don't have a username and password yet, it is easy enough to register for one.
Once logged in, put your cursor on the 23andme tab and then click on the the green Download button in the drop down menu

On the next page there is a box where you put the login email address and the password for the 23andme account that you wish to use for this. Then in the last box you can put the name of the profile to compare (it must be exact! It will not know that Joe Smith is the same as Joseph Smith)

Once you have entered the profile whose overlaps you are interested in click the "Get Data" button. Then a progess box will come up on that page.  Time to go do something else but leave that browser window open!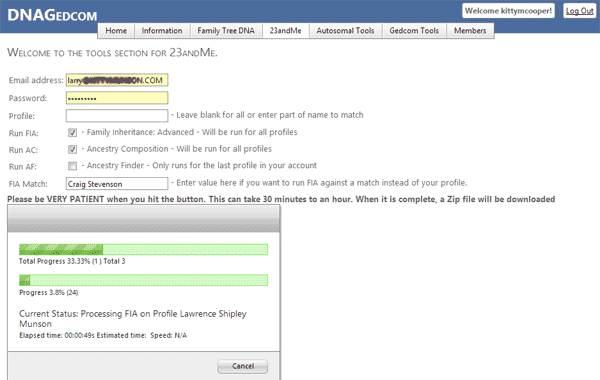 Sometime later a box will come up asking where you want to save this on your computer.  I often blow this step, having forgotten that I have one of these running. It is absolutely OK to not save it on your PC  since it is already saved in your members file area and can be retrieved from there anytime!

Clicking on view files will take you to a familiar looking two panel windows explorer type display. Click on the folder representing the company and profile you used on the left to see what files you have there. Then clicking on any file on the right lets you download it.
So  you may ask why I am doing all this. Well if I can figure out the common ancestor with SS, then I will know what line to look on for the birth parent of my adoptee DNA cousin.