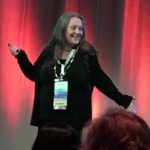 Next Friday I am doing a workshop at the SCGS Jamboree in Burbank on using the tools at DNAGedcom and GEDmatch to solve unknown parentage cases. Since I like to have slides that are screenshots for my attendees, I decided to grab a few images using the latest and greatest GWorks on a missing father search case whose maternal half brother's results were just in.
The basic technique for finding an unknown parent is to search the trees of close DNA matches looking for an ancestral couple shared among many of them. Build the tree down from that couple until someone is in the right place at the right time. The more you know about the unknown person(s) the easier this is. See the top of this post of mine for a summary – http://blog.kittycooper.com/2017/01/a-jewish-adoptee-finds-his-birth-family/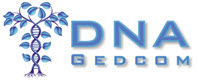 It has been a while since I used DNAGedcom. Why? Because now that Ancestry.com DNA
has over 4 million testers, many adoptees get lucky and as soon as their DNA results are posted, they have enough good matches to figure out who at least one birth parent is. Also the use of a mirror tree with a second cousin's information can often identify the family branch they are looking for (see http://www.borninneworleans.com/how-to/what-is-a-mirror-tree/ for that technique).
However when there are only third and fourth cousin matches, the remarkable tools at DNAGedcom.com can help you solve your mystery, but it is not intuitive or easy. It works best for folk with deep American roots, since that is the most tested population at Ancestry.com.
GWorks is a tool at DNAGedcom designed to automate comparing the people in all the different trees of your DNA matches. With an inexpensive subscription, you can use their "client" to aggregate the results from each different testing site and the people in the trees at ancestry. You can also manually upload Gedcoms which are easy to generate from ahnentafel lists (for that technique see http://blog.kittycooper.com/2016/10/text-to-Gedcom-using-ahnen2ged/ ). Then you get GWorks to compare all those trees looking for common people.
Much to my amazement, as I took screenshots of the GWorks process using my case, I was suddenly able to solve it! And he had NO good paternal side matches! It was all from the trees of fourth cousins. And done in two days using GWorks. (OK, once I saw that I had it, I stayed up until 2:00 am building the tree, I admit it, still…)
So how did I do this?