Unknown parentage searches have changed dramatically over the last year thanks to a number of great new automated tools. I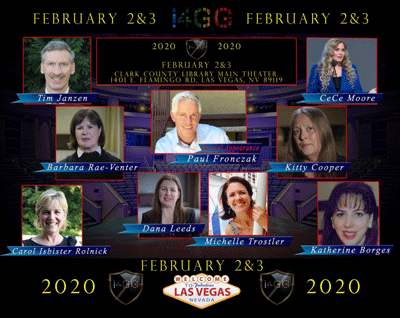 will be updating my presentation on this for the upcoming i4GG conference in Las Vegas in a few weeks, the first weekend in February. I will also probably talk about what's new at GEDmatch as well as be on a panel there.
Plus I will present how to use these new wonderful tools to explore your cousin matches at the North County DIG meeting next Saturday, January 18.
Below is a screen shot of the final slide in my unknown parentage presentation where I list the steps, in order, that I currently go through on these searches. I need to add at the beginning another step, "check the ethnicity," as it can be a huge clue when the two parents are descended from very different populations. Click here for a recent blog post on a case solved with ethnicity. Also I have found that the listed communities at Ancestry are pretty accurate so they can be quite useful too.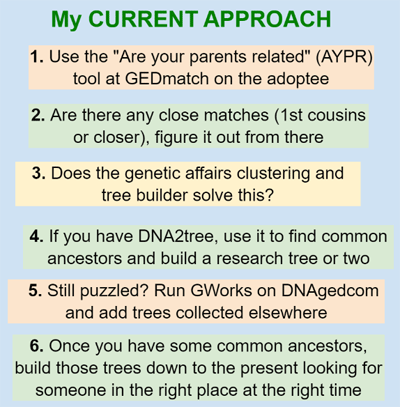 Finding an unknown father in a few hours with DNA has become much more common due to the large number of American testers. A neighbor, let's call her Dede, noticed I was a genealogist on FaceBook, so contacted me for help late one evening in December. She asked if I could help figure out who her unknown Dad was from her DNA results. She was a bit discouraged because no one had answered her messages.
Dede was tested on Ancestry and although her mother was not tested, a known maternal first cousin happened to be in her match list. That would be useful for separating the maternal from the paternal matches. Dede's ethnicity had a surprisingly high 47% German percentage while her first cousin had only 27% . Plus that cousin had no Eastern Europe (Dede 10%) or Baltic (Dede 3%) so perhaps Dede's father was part Germanic and Slavic.
I took a quick look at her Ancestry match list and saw several paternal 2nd and 3rd cousin matches so I told her that it would be pretty easy, then quoted her my discount rates and a estimate. The next day I sent her the wedding picture of her father's parents. She and her family drove to Oregon after Christmas to get to know her half sister and Dad. What a magical Holiday it was for all!
Continue reading →