Have you seen those boxes with green silhouette images in your tree titled Potential Father and Potential Mother? This feature has recently been greatly improved.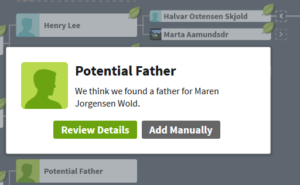 When you click on one of these boxes, Ancestry tells you that it has perhaps found that parent, like the image to the right, and it offers you two buttons, one to review the details and another to add this person manually. Clicking Add Manually just pops up a box with empty slots for you to add that person.
Review Details used to only show you the family information for the person that Ancestry had found, but not where it was from. Sometimes, if it looked accurate, I would click the "Yes" green button to add it for a quick and dirty (Q&D) tree I was making to search for an adoptee's family. Sometimes it was easy to reject when the family information did not match. However mainly I would go to the hints for that person from their profile in my tree to see if I could figure out the possible parent from there. All in all, the Potential Parent box was only a little bit useful.
So how have they improved this?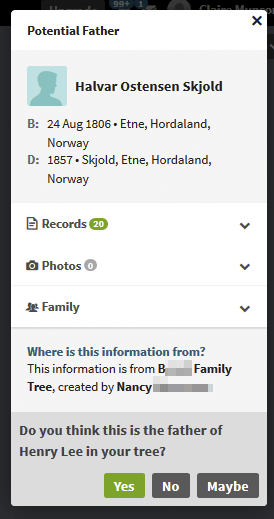 The new feature is that the Review Details now lists records, additional photos, and the tree where this information was found! This is a vast improvement. Sometimes I can even accept the potential parent from this. Note that when you click the green Yes, the person is added to your tree with its image, if there was one. Then you get a box to go to that profile in your tree where you can look through the hints and possibly find even more information.
Back to the Potential Parent details display. Clicking on Records opens up the list of records. Clicking on an individual record shows you the extracted details. Now if only you could click on the record to go to it …
Clicking on Family opens up the information about this person, their spouse and all the children as was shown before but the new great addition is "Where is this information from?" just below Family. Clicking that shows you the username and tree name that Ancestry used to propose this information. Now if only clicking on the username or the tree would open it in a new tab or window.
However you can get to that person and their tree by clicking on Member Directory in the drop down menu under Search.  Then find the person by filling in the username in the box under "Find a Specific Member" and click the search button.
Definitely the Potential Parent feature is now much more useful!