Often when I help someone find their biological father with DNA it turns out that he never knew about the pregnancy. His reaction when contacted varies greatly, perhaps his memories of the 60s or 70s are quite faint… Frequently his first question is "How did you find me?" Or "What makes you think it's me?"
Sometimes my answer is because a close relative of yours tested their DNA and helped us. More often I explain the basic methodology of pedigree triangulation that was used, as follows.
We look at the family trees of 2nd, 3rd, and even 4th cousin DNA matches to see what ancestors they have in common with each other. Sometimes we find two shared ancestral couples, then we look for the son of a person descended from one couple who married a daughter descended from the other couple.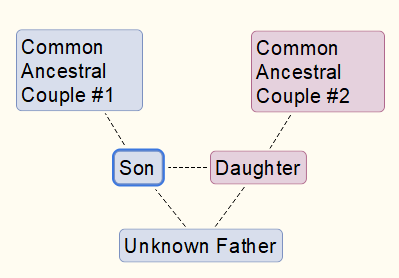 Other times we just find one ancestral couple and some common surnames. We build that couple's family tree downwards, looking for some of the other surnames we found until we find a descendant who was in the right place at the right time to be the missing father. There are a number of posts here describing specific success stories that are tagged Adoption Success Stories. Click here for my favorite and easy to understand story.
Click here for a more advanced explanation of pedigree triangulation with informative images from DNAadoption.org
Next we ask the found possible father to take a DNA test. To encourage him to use the testing company that his probable child used to confirm the results, rather than a commercial paternity test, I send the following plus more details of how he was found including images of the family trees.

The personal genome tests done by companies like Ancestry.com are remarkably accurate for close relative testing but are not as yet very accurate for ethnicity although they are improving regularly. Ethnicity needs a good pool of people to compare to whereas determining close relatives may only need two or three people.

Some background, all humans are about 99.5% alike in their DNA so these tests look at the base pairs in the genome that are expected to be different between people called SNPs. Although most companies test about 700,000 SNPs that is still a very small percentage of the roughly 3 billion base pairs in a genome. To further confuse the issue, the choice of SNPs changes with each company and the companies' latest test version (called a chip). This means that sometimes there are only 80,000 or so SNPs in common between tests. That is still enough to determine close relatives and far more than traditional paternity tests use.
One of the reasons for the accuracy on close family matching is that every person gets half their DNA from each parent. Of the 23 pairs of chromosomes, one half of each pair is from Mom and the other from Dad. Each parent passes on DNA that has been mixed up (recombined) from what they got from their parent. So a parent/child relationship is unmistakable in the DNA as the child will always share a full 50% or half their chromosomes with a parent.
Here is an example of chromosome by chromosome comparisons of close family done at GEDmatch.com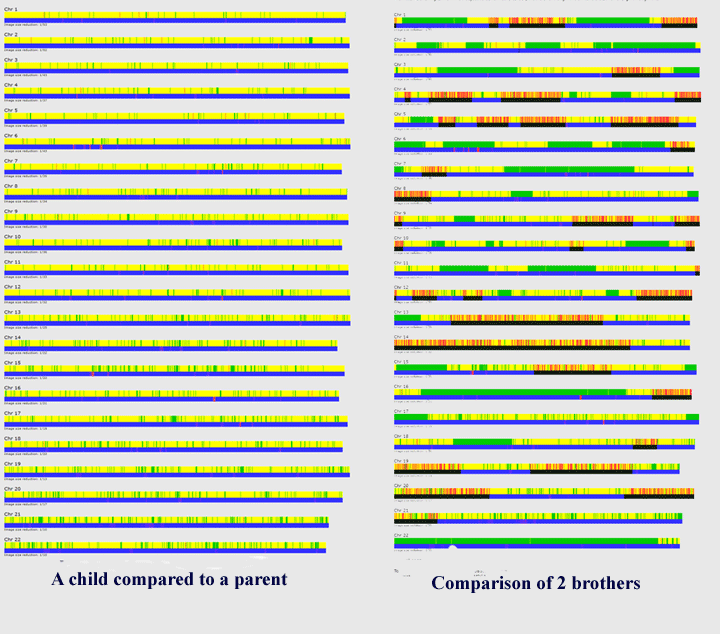 The black bars show where there is no match, the blue bars indicate the shared DNA. Note that every single chromosome has a blue bar in the parent/child comparison. The two brothers however do not match on every chromosome but often match on both the maternal and paternal chromosomes, so green bars show where they got identical DNA from each parent.
In the current testing company comparisons a child will share about 3500 cM (centimorgans) with a parent. Centimorgans are how long stretches of identical SNPs are measured. Full siblings will share about 2600 cM and half siblings about 1750 cM, but those can vary more than the parent/child amount. The less close a relationship is, the wider the range of possible shared DNA. See the chart at the following URL for some of those numbers https://dnapainter.com/tools/sharedcmv4
Once you get past the immediate family, it gets harder to tell the relationship from the DNA comparisons. Your aunts, uncles, nieces, nephews, grandparents, and half siblings will all share about one fourth of their DNA with you, so telling them apart is done by who else they match and by how much, plus a few other tricks (see my blog post on 25% relationships).
To learn more about DNA testing and matching, you can read many of my articles on this blog. Perhaps start with this very basic one:
https://blog.kittycooper.com/dna-basics/ or look at these presentation slides: https://slides.com/kittycooper/dna-basics#/