Family Tree DNA has updated their chromosome browser with a new sleek modern look that allows seven simultaneous comparisons. What's more, you can click the chromosome browser on the home page and go straight to a page where you select the people to compare. The Family Finder section on the homepage highlights the new browser:

The new selection page sorts by any column just like the Family Finder Matches page: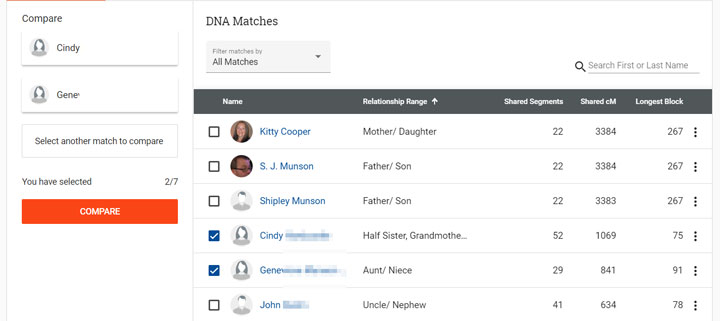 This new chromosome map it produces is much more modern looking and intuitive to use, plus every segment can be clicked to see the information about it.

Notice that the centromere is now shown with small white vertical dots and the untested areas are a paler gray, all very pleasing on the eye.
Be forewarned though, the download of all your segment data is no longer on this page, it is now at the bottom of the regular Family Finder Match page.
A pleasant surprise is a new function, also at the bottom of the main match page, to download the segment data for the filtered group you have selected, e.g. all maternal, paternal, or in common with someone matches.
However there are some negatives for the new Chromosome Browser:
They still include the small segments in the downloaded or viewed numbers even when you select a larger number like 7cM or 10cM.

If you are working on the Family Finder Match page and select a few people, then click the chromosome browser button it takes you to the page where you select people for the chromosome browser. I find this an annoying extra step. Be sure to click the big red Compare button.

I am going to have to update many of my presentation slides!