Tuesday I will be presenting the latest version of my talk on solving unknown parentage cases in a virtual conference hosted by the Utah genealogical society (click here for more information). In the past, I relied heavily on the tools at DNAgedcom, but now there are several new tools that are even more exciting.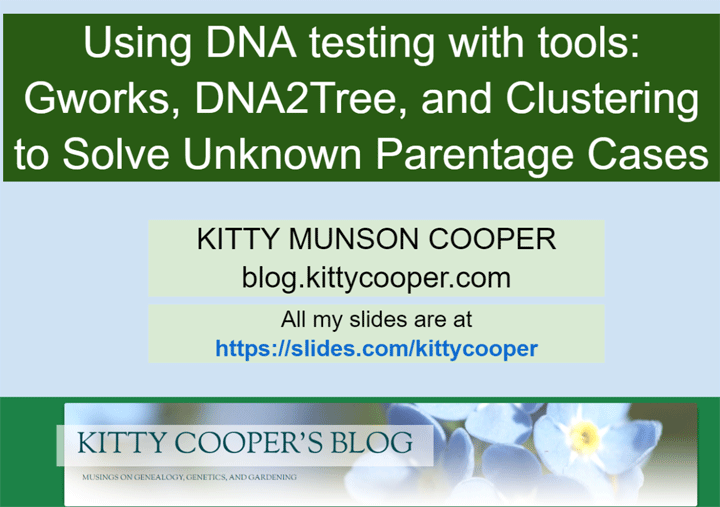 The basic methodology for unknown parentage searches is to DNA test everywhere. Then look through the trees of your matches to see what ancestors are in common. Build trees down from those common ancestors looking for where the different families meet in a marriage. Then find a child of that marriage who was in the right place at the right time to be the missing parent or grandparent or …
A major difficulty is that many people test DNA without providing a tree. Usually you have to try to build trees for them. Another problem is that building trees down from those common ancestors is incredibly labor intensive when the families are large and the matches are distant. My latest strategy for difficult cases is to recruit several search angels to build the different trees.
There are now tools that automate building trees!

DNA2tree will build trees at Ancestry of your matches down from the common ancestor. Sadly it is only available on iPhones and iPads although an android version is in the works. Did I break my android tablet on purpose so I could buy a slightly used iPad? No, but maybe it was a Freudian slip… I love this app! I had a guest blog about it a while back but soon I will describe my own adventures using it, as an inept iPad user.
Of course, the trees it builds only include the lines from the common ancestors down to your matches plus a possible one to you with just the names GGgrandfather and so on.  They are as error ridden as the ancestry trees they are based on, so they often need much work. Still it is an incredible time saver. I like that it uses special icons to indicate the ancestors of your DNA matches as well as showing the probable common ancestors with those words on a black background, sample on the left.
Clustering is the other big game changer. When those DNA matches with no trees are clustering with people who do, it becomes possible to figure out where they fit.
One of the best clustering applications is from the Genetic Affairs site because it will cluster a number of subsets for you, including just starred matches. My blog post on that site (click here) was written before all those enhancements. DNA2tree, GEDmatch, DNAgedcom, and MyHeritage all have clustering applications too.
Guess what, Genetic Affairs will build some trees now!! Although they look like the one below, rather than being built at ancestry for you. Still the compact nature of the display makes it easier to see how the DNA matches are descended from your common ancestor.
Every tool has its advantages but none of these tools are free. Click here for the slides from my talk. I am still reworking them because so many screens have changed!
Disclaimer: I have been given a free trial with DNA2tree to evaluate it. DNAgedcom has given me a free search angel account. Genetic Affiars I have been paying as I go for.