Maintaining a sensible weight has always been a struggle for me so I object to 23andme saying "Kitty, your genes predispose you to weigh about 8% less than average." I really want to blame my DNA for this excess weight, not the eating habits I learned growing up. My maternal grandparents were a bit pear-shaped when they were older. My mother and brother also always struggled with their weight … it has to be in my genes!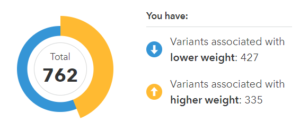 I have a simple five year plan for weight control: diet for six months to lose 15-20 pounds then eat for four plus years to gain 20-25. You can see how this long term trend is going! So this time I will try to lose 30 even if it takes over a year to do it.
Critical to my many previous successes has been a support person or group. Perhaps that is why I have done Weight Watchers so many times. The last two times my husband dieted with me and we did Nutrisystem quite successfully. This time I am doing South Beach with my friend Lynne (her choice) and I am quite pleased with it as I do not get very hungry nor crave .. chocolate … Low carb has always worked well for me. As a teenager all I had to do was give up dessert and hamburger buns for a week to lose 5 pounds.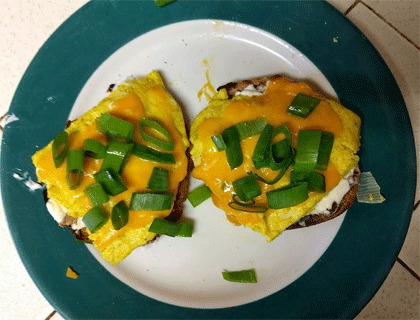 Since a reader told me at a recent conference that she enjoyed my occasional off topic posts, I will share some of my low carb creations here. By the way, whenever I find a recipe online, somehow I always have to fiddle with it a little.
I prefer to start the day with a good breakfast so here is my own invention, an easy recipe for an open faced breakfast sandwich using a microwave and a toaster oven that works on Weight Watchers, Nutrisystem, (2 protein, 1 bread) and starting week 3 of South Beach. However my current weight loss stalled when I added back the whole wheat English muffin so I dropped that part of it and now serve mine on small slices of ham instead.

Breakfast sandwiches for two:
Collect the ingredients:

2 whole wheat English muffins
2 eggs
2 slices of cheddar cheese
1/8 (heaping) cup plain Greek yogurt (whole or nonfat)
1 green onion
¼ tsp curry powder (or more if you like it)
¼ teaspoon dill or fresh basil (chopped up)
3 shakes of salt
2 grinds of pepper
cream cheese (reduced fat or not, as you prefer)

Split the English muffin and start it toasting in the toaster oven (5 minutes or your preference)
Spray a low flat microwave safe bowl with olive oil cooking spray. Add the eggs, yogurt, and seasonings. Using your kitchen scissors cut the white part of the green onion up the middle (in half) and then cut little bits into the mix (or chop it small some other way). Beat it all together with a fork.
Microwave the bowl with egg mixture for 1 minute then take it out and stir the outside cooked part to the center then microwave for another minute (or less if it was mainly cooked). Note that when making for one person with just one egg it is 30 seconds each time. (On South Beach I add broccoli slaw after stirring for more vegetable content)
Spread the toasted muffin halves with cream cheese.
Cut the egg into 4 quarters, put each quarter on a muffin.
Top each with 1/2 of a cheese slice.
Put in the toaster oven for 2-3 minutes until the cheese melts.
Cut the green part of the green onion into small pieces and sprinkle over the top of the open-faced sandwich when you take it out of the toaster oven and serve.
Another possibility when time is limited is to eat one or two tiny egg muffins, actually mini crustless quiches. I bake them about once a week in my cupcake pan. A miracle invention is silicon cupcake liners. No extra oil needed to grease the pan and they slide out easily as does the muffin! Plus very little clean up is necessary afterwards.
I found a great recipe for the South Beach version of those little muffin quiches online at
https://www.thekitchenismyplayground.com/2012/10/individual-veggie-quiche-cups-to-go.html
Of course I had to change it up a bit as I found it too dense, I add 1/3 of a cup of yogurt to lighten it up. Plus I do not include the red peppers, which I dislike, so I double the onions instead. Also I prefer a more swiss-style cheese to the cheddar so I use an Irish cheese called Dubliner. Finally I make half of them with ham and the other half with spinach. So I mix it without the spinach first. Take two slices of ham cut into shreds and put in the bottom of half the muffin liners and fill those with the mix. Then I add maybe 3 oz of spinach to the remaining mixture. Stir and pour. The ¼ cup measure is perfect for filling the muffin liners.
To reheat, I put one on a small plate in the microwave for 20 seconds or eat them cold.
My next set of experiments have been with dessert style muffins using almond flour. This recipe I found works pretty well but needs a dash of salt. Using Splenda it needs only half the sweetener. And yes I did burn my lips trying them before they cooled. Those freshly cooked blueberries can explode in your mouth!
https://www.wholesomeyum.com/recipes/keto-low-carb-paleo-blueberry-muffins-recipe-almond-flour/
A variation I like is to use no blueberries but rather almond extract and slivered almonds on top.
Another way to help weight loss is to increase exercise. We walk our dog every morning for about 2 miles and I try to do some arm exercises with weights three times a week (Monday, Wednesday, and if I remember Saturday). To this regimen I have added a yoga class at my silver sneakers gym Tuesday and Thursday. Lucky for me the teachers are great at our local Crunch gym.
In practice, I do not think it matters much which diet plan you use as long as it is one you can stick with over the long term. Six pounds down and 24 to go!