Did you know that Ancestry
can figure out how you are related to a DNA match if you both have trees linked to your DNA tests? You do not have to have anyone further back than your parents if other relatives have more extensive trees on Ancestry
that include your family,
So how do you link your tree to your DNA? First log into Ancestry.com
. Then click on DNA Result Summary in the pull down menu under DNA. Next click the gear on the far right that says Settings next to it as shown in the image below.

Once you are on the Settings page, scroll down to the words DNA and family tree linking.​ Then click that box to get to the page where you can link your test to your tree.
​There you will see something like the below image​ where you can specify the tree and the person to link the DNA test to. When you start typing a name, Ancestry
will use auto complete to show possible names from your tree. Once you have selected yourself or the person whose kit it is, click the blue button to make the connection.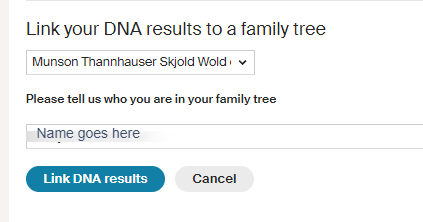 The tool Ancestry
uses to find and display relationships based on trees linked to DNA results is called ThruLines which I have numerous posts about. Now for an example of what this can produce.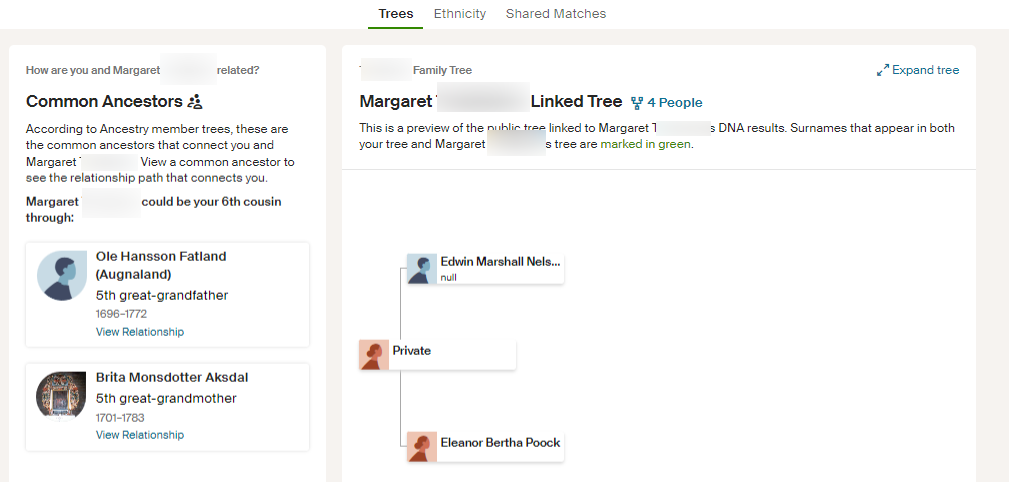 Here is a DNA match with Margaret, a distant relative who only had her parents listed, yet ThruLines found a relationship on my Norwegian Fatland line. Clicking on the name of ancestor Ole Fatland on the left gets the display below of the relationship path.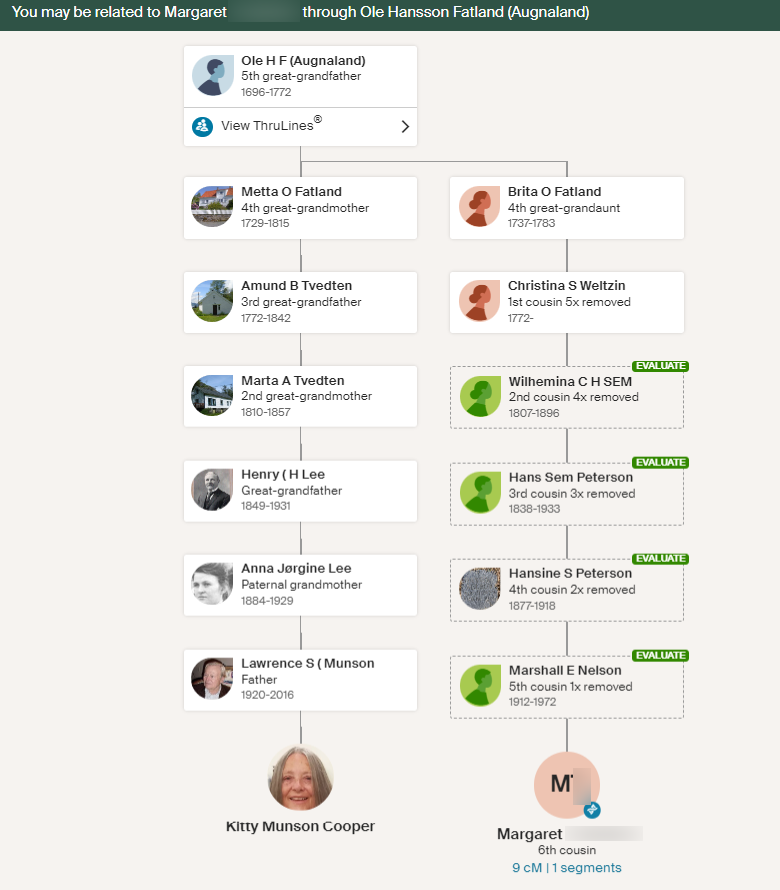 Whether this is accurate is hard to say yet. One action item is to click on the green evaluate for each person in her line, check the records, and add them to my tree. Norwegian records are good, free, and online (for more on that click here)  The second action item is to get her to upload to a site with a chromosome browser (preferably GEDmatch) where I can see the matching segment. If she matches my Dad on one of the segments that I have mapped to that ancestral couple, then the relationship is confirmed. Otherwise I can do a segment search at GEDmatch to see who else matches her there. Finally there is always the possibility that this is not a real match! (Click here to read more about that)
So if your DNA cousin has a tree that is not linked to their match, send them a link to this article!