In the last few months, I have helped solve five out of six unknown parentage cases in just a few weeks from mainly third and fourth cousin matches. How? By using the GWorks automation from DNAgedcom combined with AncestryDNA
results. These searches used to take many months, even years, with much tedious spreadsheeting and segment analysis. What has changed?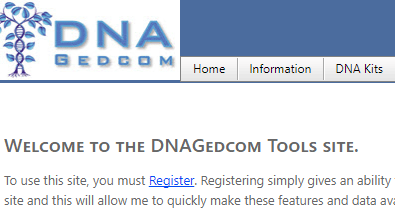 Well, Ancestry.com
now has a database of over 20 million tests [number updated on 5 dec 2021] plus software to connect trees and DNA. This can make the search easy for Americans without having to use the segment data.
My attempt to explain the technique I use of combining GWorks with mirror trees met with glazed eyes in my Adoption workshop last June. I thought my previous write-up was pretty clear but I have not heard back from anyone saying that it had worked for them. So I am trying again with this post today.
In an unknown parentage search, the object is to find a common ancestral couple among your DNA matches and build a tree of their descendants until you find someone in the right place at the right time. It seems pretty obvious to me that an automated way to compare trees is best; followed by surname frequencies to check for the spouses, in order to figure out which lines to follow. So why does everyone tune out when I try to explain how to do that with GWorks? Too many steps? Too geeky?
By using GWorks to find a likely ancestral couple, I have been able to build down to the grandparents or great grandparents of the adoptee fairly quickly. Then I build the trees back in time for each child's spouse to find the most likely line. At this point I start using "mirror" or research trees.
Here is the step-by-step approach:
Step 1. Create a paid account at DNAgedcom and download their client (DGC)
First you have to register at DNAgedcom.com. Registering logs you in, so go to the Members menu and click on subscriber information. Sign up for a monthly subscription. You can always unsubscribe once the case is solved. It can take a little time for your "silver" membership to appear and you will need to log out and in again.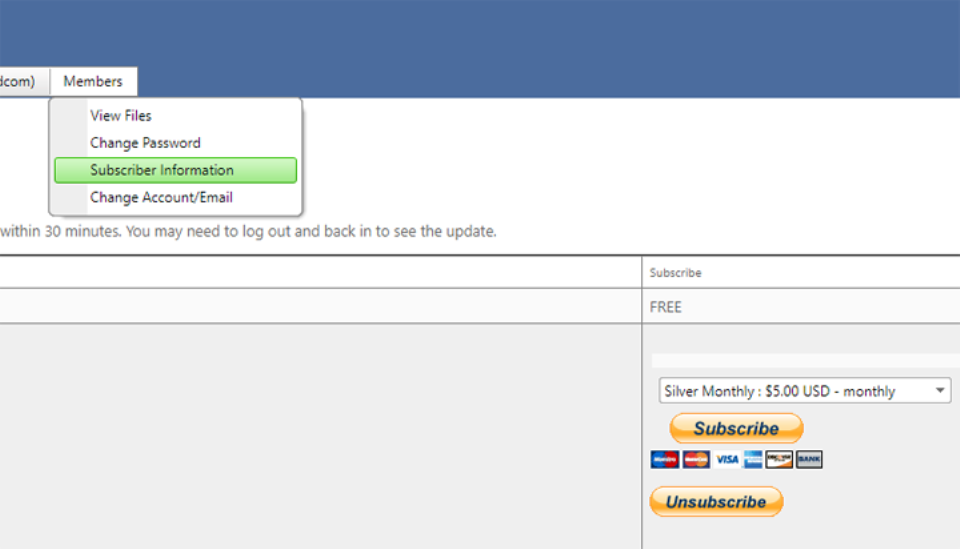 Once your membership has turned to silver, go back to that subscription page. There should now be a link to download the DNAgedcom client (DGC): one link for PC users and another for Mac users as shown below (as always the red arrow is my addition). WARNING if you have previously downloaded DGC, do it again, you need the latest version which fixes a new problem with Ancestry.

Step 2. Collect your matches and trees from Ancestry using DGC
UPDATE: 8-AUG-2020: Click here for the newer screen shots for this step shown in my presentation slides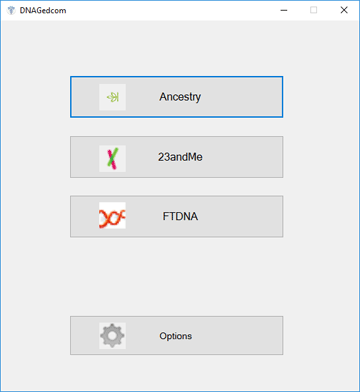 When you first run DGC on your computer, you choose the folder it will use to store the files it creates. I created one called DNAGedcom on my PC and used that. Then give DGC your paid DNAgedcom login information. You can always change these from the Options button on DGC's main page.
Now choose Ancestry from the buttons on the main page of DGC.
On the next screen, enter your Ancestry login information. Once you are logged in, the names of all the profiles you can see are listed in the profile box drop down. Select the one you are looking into.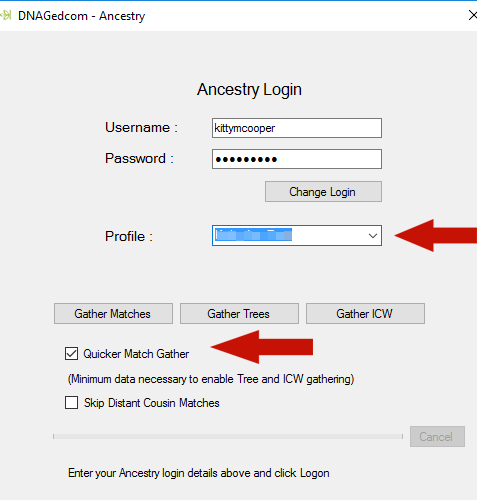 If this person has 600 or more 4th cousins you might check the Skip Distant Cousin Matches box to save time. With fewer fourth cousins, get them all. In either case, you can check the Quicker Match Gather box. Now click the Gather Matches button. This creates a spreadsheet file called m_profilename.csv in the folder that you previously chose for your DNAgedcom client files. This file has a line for each match with their name, Ancestry's guesses on the cousinship, number of shared cMs, number of segments, your notes, ethnic regions, a link to their tree and much more. I often make a separate copy of that file and use it to track information about these matches later on.
Next have DGC gather the tree information by clicking the Gather Trees button. This can take much longer than the match gathering – a_profilename.csv is the name of the file it creates. No need to gather the ICW information for this particular process.
Step 3. Upload your ancestry data to the DNAgedcom site
Once the ancestry data is collected, it is time to upload it to DNAgedcom and put GWorks to work. Be careful search angels, each case needs its own account at DNAgedcom so that the files for different people do not intermingle. However you only need one paid account to run DGC since it puts the resulting files on your local computer.
To do the upload, log into DNAgedcom in a browser and select Upload Ancestry DNA data from the drop down menu under DNA kits. This takes you to a page where you can upload each of those files we just created, the m_ and the a_ files. The ICW file is not needed for this particular GWorks process. Wait for the spinning circle next to the file name to stop before doing the next one. Once all of them are done, click the Load the Files button, wait for that to finish, then click the Process the Data button, and wait for it.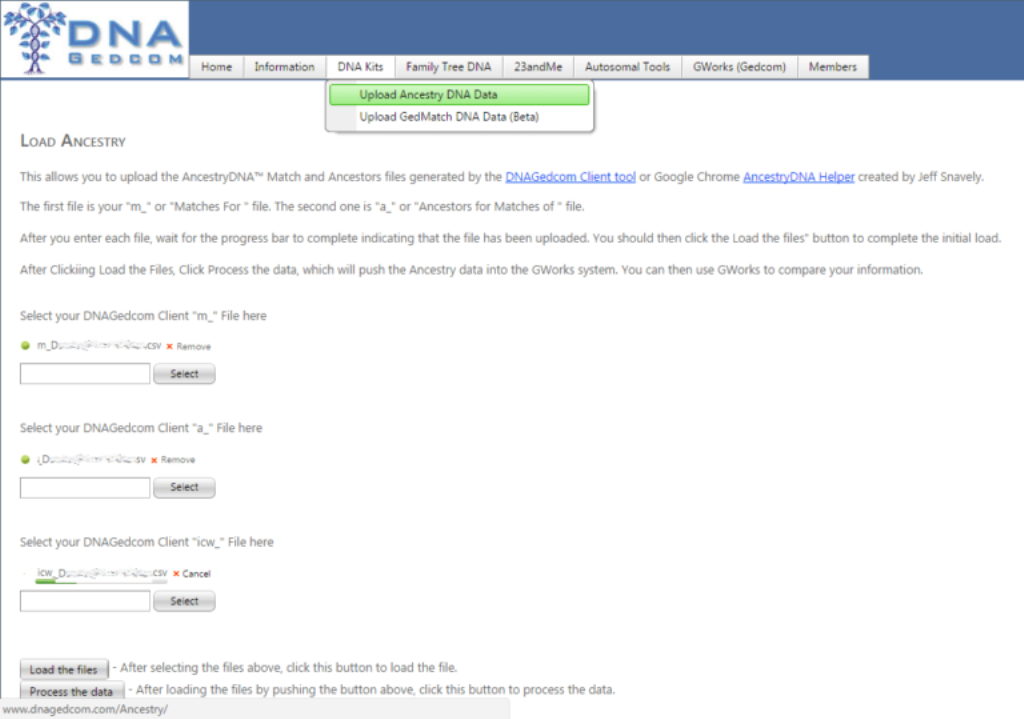 Step 4. Make Gworks process your files
The GWorks Manage Tree Files page will generate the analysis files for your database and for downloading. Starting at the top, click the buttons in order – Match Gedcom files, Create Match file, and Create Surname file. This will build the database of information needed for the search.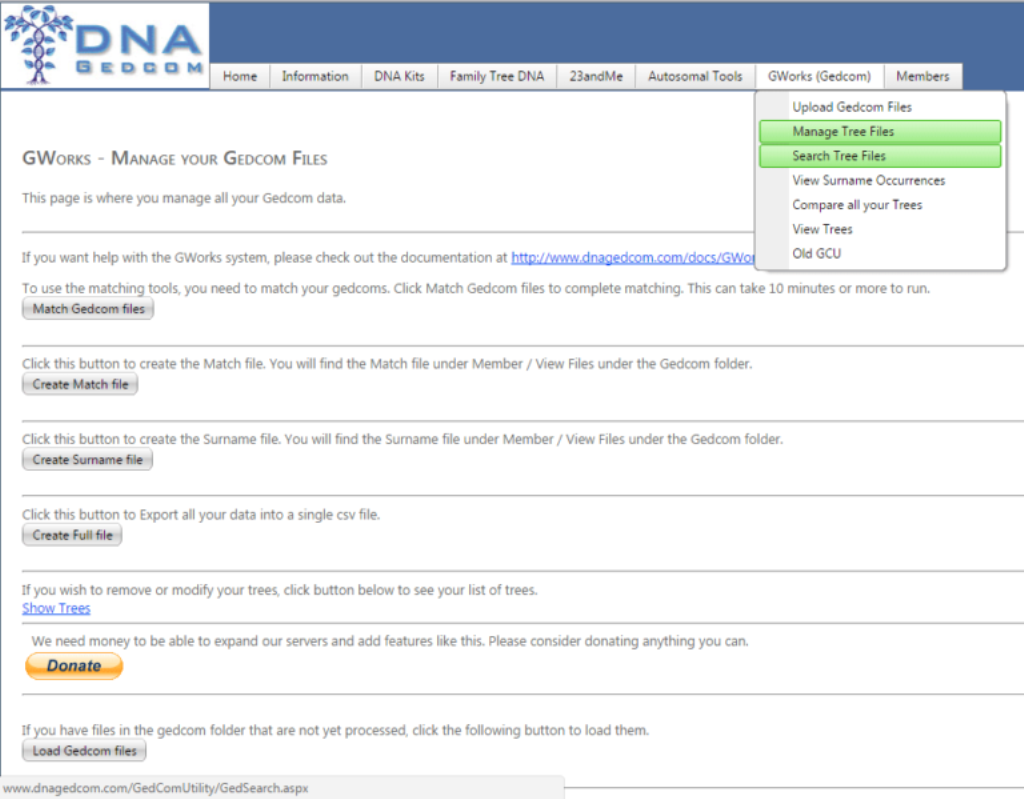 Step 5, Pick an ancestral couple
There are two approaches you can use here. GWorks or the match file. First GWorks:
On the GWorks menu there is a "Compare all your Trees" which lists people it found in more than one tree with their birth and death dates in frequency order. See if you can find someone in the 1800s who is in three or more trees that are not all from the same close family. Being in more trees is better of course.
The people who are direct ancestors of the DNA matches and in the most trees are listed first, then the rest in descending order. The number of trees they are in is shown in the far right column. Ignore the search boxes at the top of each column for now. Click on the green angle bracket ">" on the left next to a person to see all the trees with that individual. Here is an example of that with the tree names blurred:

How can you tell if they are from the same family? Usually the same surname will appear in all of them, for example, smith42_smith42_ANC and J.P._smith42_ANC. In those cases the same user, smith42, has tested more than one family member. Since any and all of these tree names can be clicked to go to that match at Ancestry, you can usually figure out the less obvious cases of the same family by clicking and checking.
The other approach is to download the match csv file and massage it to find a likely couple. That is step 7 in my previous post (click here for it).
Step 6. Build your research tree down from that person/couple
Create a private, unsearchable tree at Ancestry
. Click on one of your matches trees and find the profile of the person you have chosen. Use the Save to Tree  from the tools menu while on that profile to copy this presumed ancestor over to your new research tree.

On the popup box, click the + add new person on the bottom right. Then click the Save button on the next little screen. Next go back to that profile on the matches' tree and use the Save to Tree again. This time, type that person's name in the popup box so it finds his profile in your tree. Now when you click Save, you will get a page like the one from Ancestry
's tree hints where you can copy all the family members over as well as the person. Copy the spouse and children over.
Go back to your matches tree and save each child to your tree again. You may have to use several trees to get the spouses and children for each. By the way this is fast rather than good genealogy, but do try and copy the most accurate looking trees. Please note, you may have to research some of the children yourself if they are not in your matches' trees. Other trees, census data, birth and marriage records, familysearch.org, google, and other sites can help.
Here is the key tip: Check each child's spouse's surname in the View Surname Occurences page at GWorks. If there are no occurrences move on to the next child. This is what speeds the search up. When you find a child with a spouse whose name is in the list repeat the above process for each of their children.
The surname occurences search function is a bit unusual but very useful. Type the name or part of the name in the box under Surname and then click the little T thing to get a menu. Click on the way to match it from the drop down menu. This example uses StartsWith.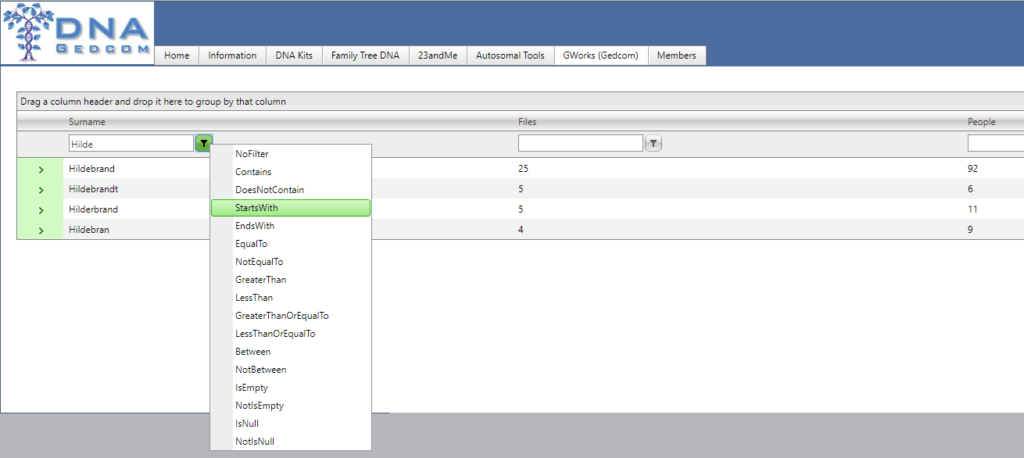 Using surname occurrences to choose which descendants of the couple you picked to research can lead you to the grandparents or great grandparents of the mystery person fairly quickly. You will know you are there because the surnames of both spouses will have many occurences and they will be from recent times.
Step 7. Put ancestry's DNA hinting system to work
Time to use the mirror tree technique, although here it is just our research tree. Pick a child of these suspected great-grandparents and build that child's spouse's tree back four or five generations in your research tree. Now attach the DNA of the person you are helping (or yourself) to this couple. Then wait a day or two and see if the DNA page has any new green leaf hints that are for that spouse's side. One or two might not be significant so try each child. Usually one spouse's line will get lots of hints. Now you have found the grandparents.
At this point a McGuire diagram of the closest matches can help visualize what you have and whether the DNA works for a child of this couple being the parent or grandparent. (Click here for Blaine's post about those diagrams). Looking at the McGuire for a recent cases' great grandparents from a somewhat endogamous group, made it clear which child was the grandparent. That adoptee had six 2nd cousin matches, none with trees, none responding.
Step 8. Researching the living … Location, location, location
Once you get to living people, tree building is harder. Obituary searches, Find-a-Grave, people search sites, college yearbooks on Ancestry, Facebook, and lots of sleuthing are what you use to find the unknown parent. Join the mailing list at Yahoo for DNAadoption or DNA detectives at Facebook for advice on this. Sometimes you get lucky and a newly found 3rd cousin pitches in and helps. That was the case for the woman with those six unresponsive 2nd cousins. It took about a month to find her birth parents with GWorks, the 3rd cousin's help, and a great deal of her own brilliant sleuthing via obituaries on Find-a-Grave.
Locations can often help finish the search. Another recent case was born in Hawaii. The recently unsealed adoption records found her late mother but the Dad was blank and no one knew. Using GWorks got us to her paternal grandparents in just a few days. The entire family was from South Dakota. Googling discovered that one son had lived in Hawaii during the time of conception …
Finally if you are totally confused by this post, or your ancestry is not American, or you just want to better understand all this, I suggest you sign up for a class or two at DNAadoption.com to learn more about how to do these searches. There is also a manual for GWorks linked to from the main page at DNAgedcom.com which includes instructions for using the data from other DNA sites.
UPDATE 27 Sept 2017: I made a number of changes based on reader feedback to try to make this post easier to understand. I added quite a bit to the ending- including breaking it out into a step 7 and 8 with more details. Feel free to contact me with additional suggestions.