All the DNA testing companies, except Ancestry,
show you a chromosome map of the segments you share with a DNA match. For the casual user those maps, called chromosome browsers, may not be of interest. However those of us with intermarried families among our ancestors (endogamy) need to see the segments in common in order to know if a match is a findable relative who shares large chunks of DNA with us or just someone who shares multiple distant ancestors. Third cousins and closer family will always share some large segments, at least 20 or 30 centimorgans and even larger for closer relatives (see Blaine's chart below).
Ancestry now shows the longest segment on a DNA match's profile page which could be very useful to help decide which matches to pursue and which ones to ignore.
A word of warning, the size of the largest segment that they show is uncut, that is it is listed before they remove matching DNA that is expected to be population specific. For example, many of my one segment matches show a longest segment that is larger than the match size as shown above! If you click on the longest segment number there is a very informative popup about relationships and segments that includes this statement:
"In some cases, the length of the longest shared segment is greater than the total length of shared DNA. This is because we adjust the length of shared DNA to reflect DNA that is most likely shared from a recent ancestor. Sometimes, DNA can be shared for reasons other than recent ancestry, such as when two people share the same ethnicity or are from the same regions."
My often requested advice for Ashkenazi Jewish researchers is to look for one segment greater than 20cM and another greater than 10cM plus several others in order for a DNA match to be recently related enough to find the common ancestor(s). Therefore it would be even better if Ancestry
showed the two largest segments. Subtracting the largest segment from the total to figure out the sizes of the other segments is not very accurate since the total is adjusted by removing population specific sections (Timber algorithm) while the largest is not.
Blaine Bettinger includes the longest segment in his DNA statistics collection form and below is a chart of those 2015 results by cousin level; click here for his blog post.
I spent some time looking at the cases where matches are tested at both Ancestry
and 23andme in my family's results.
My recently discovered South African 3rd cousin (click here for that story) who shares Jewish gg-grandparents with me is also tested at both places. At Ancestry
she shares 38 cM over 4 segments with a longest segment of 25cM while at 23andme she shares 56cM over 4 segments with a largest of 25.22. With my brother at Ancestry
she shares 60 cM over 4 segments with a longest segment of 40cM while at 23andme she shares 90cM over 4 segments with a largest of 57.35. This gives me a feel for how much the Ancestry
algorithm removes; in this case of endogamous DNA, about one third was removed.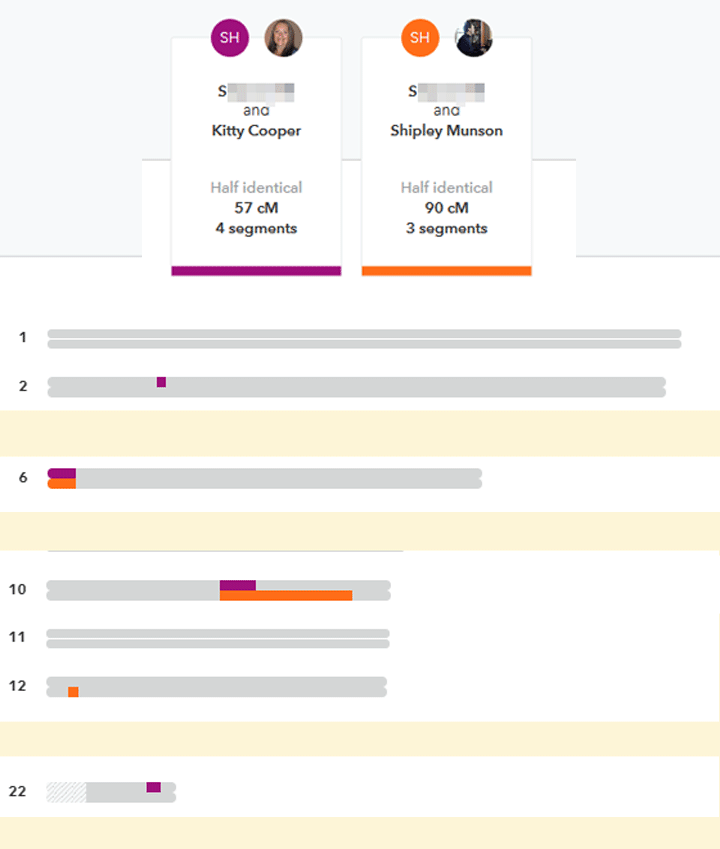 Next I looked at my 100% Jewish husband's matches, first C, a "3rd cousin" match. At Ancestry she shares 126 cm with a longest of 43 while at 23andme she shares 137 cM with a longest segment of 42.18. Not very different, definitely a match to keep working on.
Looking at EV's match to my husband, at Ancestry
he shares 190 cm with a longest of 50 while at 23andme he shares 171 cM with a longest segment of 48.82. Hmm that is backwards from what I expected. Perhaps different chips? I will ask EV when he tested with each company and recheck at GEDmatch after making a combined kit for my husband.
Finally I started sorting through my husband's 35 "third cousin" matches, 33 unknown, to see how many I could eliminate for not having a large enough longest segment. So far only four. Thus this new feature is not as helpful as I had hoped. On the other hand, looking through my own many Jewish 4th cousin matches, a few of whom are known 3rd cousins, I found I could eliminate almost all of them.
My friend Kalani Mondoy has done a detailed analysis of his very endogamous Polynesian family's DNA and this new feature on his blog at https://hawaiiandna.wordpress.com/2020/08/19/ancestry-is-finally-showing-longest-segment-size/
Those of us with intermarried families among our ancestors (endogamy) can have DNA matches that are related to us multiple times so they share a lot of centimorgans but are not as closely related as they appear. A good way to spot this is to look at the size of the segments. This new feature at Ancestry
is a step in the right direction.