There is a new feature at GEDmatch.com – you can look at the GEDCOM of a DNA match easily again.
Take the kit number of interest and plug it into the user lookup form. On the next page, with the information about that kit, it will either say NO GEDCOM UPLOADED or there will be a GEDCOM id number. That id number is now clickable and will take you to the person associated with this kit number in the GEDCOM.
If you have not uploaded a GEDCOM to GEDmatch.com then I highly recommend that you do so. It is helpful to be able to compare your GEDCOM to that of a DNA match. I prefer just 10-12 generations of my ancestors (privatized) as my full family file is way too large. My theory being that is enough generations for DNA matching and I only want ancestors for my DNA matches to look through.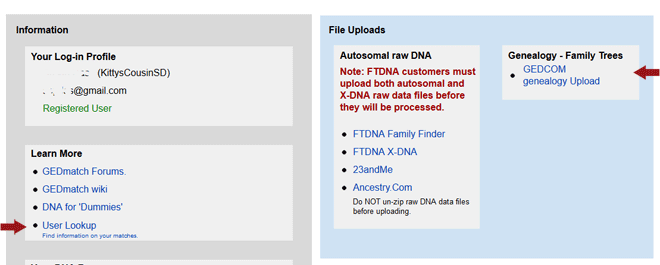 I have used red arrows on the above sample excerpt from a GEDmatch home page to show where to upload your GEDCOM file and where to click to do a user lookup.
Here is a the step by step example:

One of my Dad's top matches is a Norwegian named Frode. I took a copy of his kit number from the one to many matches page. Then on my home page in the second box on the left I clicked on User Lookup and filled his kit number into that box on the lookup form.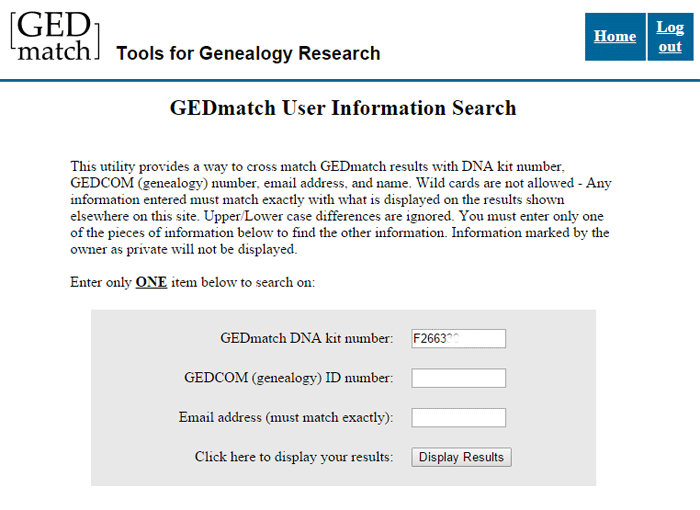 Note that you can also look for a person up by email address but only use one of the lookup options on the form.
Frode's user page has a linked GEDCOM id number (image was at the top of this post) so I clicked on that and saw this individual page which is marked private since he is living.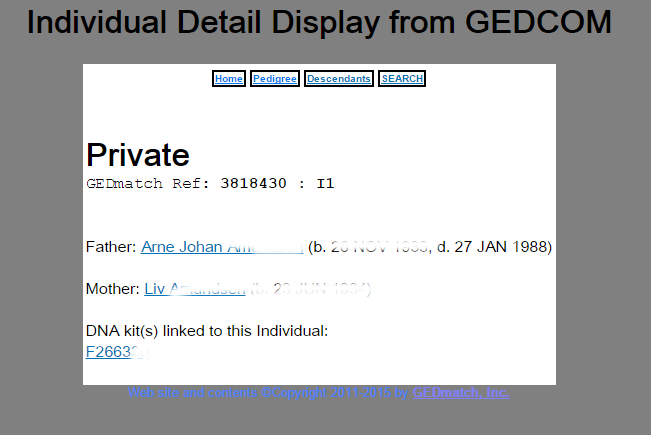 Notice the menu at the top of the page. The item most interesting to me at the moment is pedigree since it will show Frode's ancestors, so I clicked on that. The pedigree page can be adjusted to any number of generations.
Here is my mother's pedigree as an example, adjusted down to 3 generations.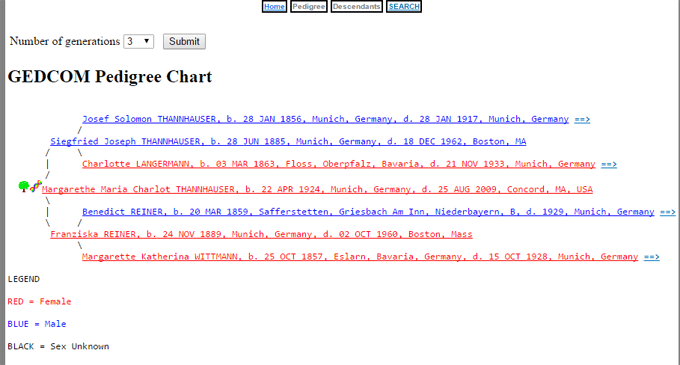 I quickly gave up on looking through Frode's detailed pedigree and decided to use the one-to-one GEDCOM compare at GEDmatch to find our common ancestors. You get to that utility by clicking the 2 GEDCOMs under Genealogy in the middle right hand Analyze your data box. You need each GEDCOM number; your own GEDCOMs are listed at the bottom left of the home screen under Your GEDCOM Resources and I found Frode's on his user profile (as described above). Warning there are some misleading messages at the beginning of the output from this function that might make you think you are comparing to all GEDCOMs. You are not!
Much to my surprise, since Norwegians often spell their names differently or use patronymic surnames instead of farm names, our common ancestors from farm Fatland popped right up. Here is how the first one looked:

So I clicked the confirm buttons for each good match. Later when I clicked the blue left to right pedigree symbol to show yet another common ancestor's descendants I noticed little trees in the list which indicated where people listed are linked to another GEDCOM (to mine of course).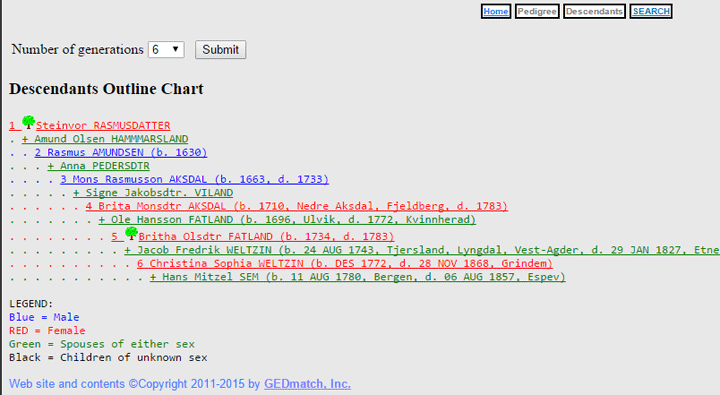 You can also choose to compare your GEDCOM to all the GEDCOMs in the database as well by clicking the 1 GEDCOM to all instead of the 2 GEDCOMs function.

A long time ago there was a linked G in the one-to-many DNA display which clicked into your match's GEDCOM. That proved to use too many resources so it was removed. I found that I missed that capability so I suggested that they link the GEDCOM id in the user profile and I am very grateful that they did.
I asked for it, I got it, thank you GEDmatch!
Addendum added 27Apr2015:
A facebook reader pointed out that, for those of us with multiple family members whose kits are on GEDmatch, it is easy and useful to link their kit to their entry in your tree at GEDmatch. Do this by clicking your family member's name on any display page reached via the lookup suggested above or the GEDCOM comparisons. This gets you to their individual page and at the bottom of that page there is a box for inputting the DNA kit id at GEDmatch. For example, I just added my brother's ancestry kit by typing it into this form and clicking the Here button.