The sales are crazy! Black Friday and now Cyber Monday. Maybe you should buy a few kits on sale for relatives at the same company you already tested with. If you still have not done a DNA test, what are you waiting for? I have my thoughts on testing at this page – http://blog.kittycooper.com/dna-basics/dna-testing/ – with links to other pages discussing this. One point though for those of you who have already tested, if you have British ancestry, you might really benefit from the detailed regional breakdown offered by LivingDNA briefly on sale for $89.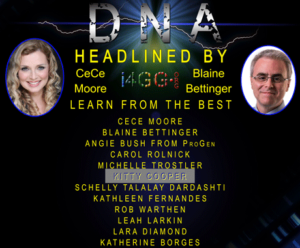 If you have not yet registered for the i4gg genetic genealogy conference in San Diego the weekend after next, do so soon. Last year it sold out. The full schedule and speakers are now listed on the web site. [UPDATE: 4 Dec 2017 – the conference is now sold out]
Last but not least, I told all my clients I would be on vacation this week. It is not exactly a vacation, the National Bridge Championships are in San Diego this week. Yes the card game, my favorite game, and I will be competing, so do not expect timely replies to your comments this week nor will you see me on facebook much at all.
If you are a social bridge player you might consider a visit to the tournament to see what it is like. You would qualify to play the beginner events if you do not yet have an ACBL ranking or at least not a high one. See the second page of this pre-bulletin for some details – http://cdn.acbl.org/nabc/2017/03/bulletins/Pre.pdf