Thanks to the collaborative world family tree at GENI.com our long lost second cousins in Germany have been found. Here is that story.
We knew we had half second cousins somewhere in Bavaria but did not know their surname nor where they lived. The family lore is that my great-grandfather Benedict Reiner was studying to be a priest when he got the daughter of the local innkeeper pregnant. Her family was welcoming but he did not want to be an innkeeper so he ran off to Munich and became a contractor. His illegitimate son from this union came for the occasional visit to Benedict and was called Xavier according to my late mother.
My News Year's resolution this year was to better learn how to do German genealogy research so I could work on this part of the family. It is the only branch that is not done when you look at the five generation fan chart, so it has been calling to me for a while.
Last week I scanned in a marriage document for Benedict and my great-grandmother that I had found years ago on a microfilm at the LDS family history library. My plan was to upload it to all my online trees and then request some help with checking the translation from my mother over at a facebook group about Bavarian genealogy (thank you Ute). I use many online family trees but I usually start with GENI because it is easy to use and pretty and seems to have more European genealogists than the others. Since I am descended from recent immigrants to the U.S.A. that is an important consideration for me.
GENI has a nice feature that when you are logged in and start typing a name in the search box, it shows you the names that match from your tree or from those people you are following. However if there is a lot of information on your home page when you first arrive, it can be slow to do that. That is why it was not yet responding when I typed in Benedict's name. So I hit the search button figuring it was an uncommon name thus the regular search it would find him easily and quickly. I was surprised when it found two of them. Curious I clicked the other. He had no dates listed and a different wife and child so perhaps that is why the GENI matching algorithm did not find him.
This other Benedict had a son named Franz Xaver Löffler who was born when his mother was 17, two years before Benedict married my great-grandmother. Could that be our Xavier and this be the same Benedict? Could he have been added by my second cousins in Germany? I quickly wrote to the owner of the profile and asked if she thought they were the same.
She replied that they were the same person and had many more details to share. My new second cousin twice removed Katharina is descended from that illegitimate child Xaver, although she is a few generations down the tree from me. Benedict is her great-great-great-grandfather. I knew that Benedict himself was illegitimate, but I learned that his mother Anna was as well. What's more, she had four more illegitimate children after him and later married someone else not their father.
I let Katharina know that my brother will be in Munich in June so of course she invited him to visit. Very exciting. I look forward to his pictures and report. I had promised him that I would research our Catholic side families before his trip (the Jewish side is already done back to the 1700s) and now it looks like I will have some Bavarian help!
Today I got several emails from cousin Katharina with lots of family pictures and more information. Here is a picture of Xaver with his family. He is the seated older gentleman and his mother is behind him. He looks a lot like his father.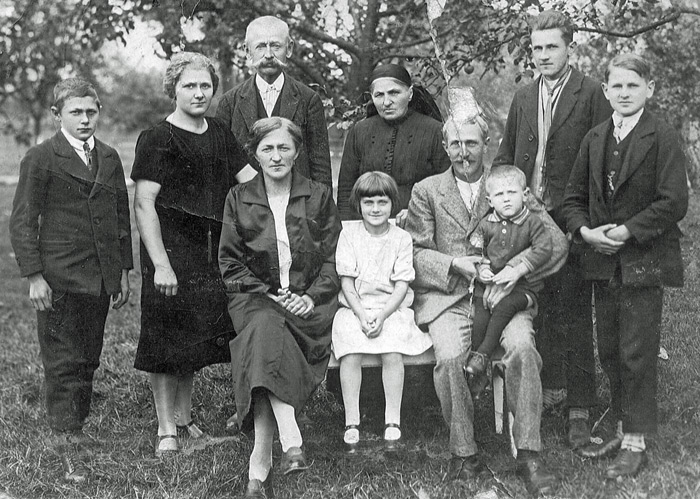 This will be an exciting collaboration!