UPDATE: 16 AUG 2019: Ancestry has shut down support for this app. It is no longer available.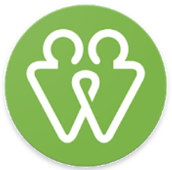 I have shown a number of fellow genealogists the We're Related app from Ancestry on my smartphone because it is so much fun. Let's face it, we all like being related to famous people. My latest "famous" match is my 7th cousin thrice removed, Hans Christian Andersen, which delights the writer in my soul.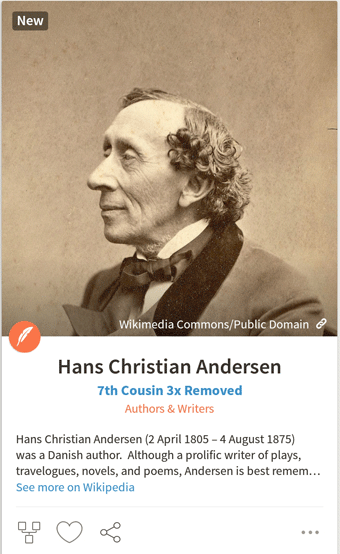 This app has also figured out how I am related to a number of my Facebook friends. Of course, they are usually cousins I that found myself with genealogy or DNA and then friended. I must have connected this app to my FaceBook account when I first installed it and of course I connected it to my Ancestry account as well.
An exciting recent surprise was that We're Related found my relationship to fellow genetic genealogist Kelly Wheaton, famed for her free online beginning genetic genealogy course. We had long wondered about a smallish DNA segment that we share on chromosome 16, which is also shared with other relatives, so expected to be real. We had assigned it to a location – Seljord, Telemark, Norway but had not figured out the ancestor.
In the app, each cousin match has several icons below it (two on my phone, three on my tablet). The one with two boxes then another below them represents a family tree. Click on that icon or the person's photo to learn more about the relationship. Although you most often share an ancestral couple, it only shows you one of them, usually the man for most of mine.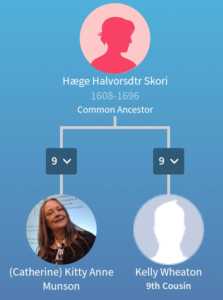 The first screen after clicking your matches photo or tree icon shows you the name of the common ancestor plus the number of people from them to you, as well as the number for your relative. There is a button to message any FaceBook friend below their photo and name. To see the actual pathway of ancestors to the common ancestor you click on the gray box with a down arrow and a number.
For Kelly, I clicked my gray 9 and saw the pathway displayed below. Some of those images, like the cat drawing (common ancestor to me?), are not even from my own tree; but the ancestors are all as I have them. My source past Jøran, my 3rd grandmother listed below, is the bygdebok for Seljord, so expected to be true, but not yet further verified in the records. However, I do have an amazingly large number of DNA matches on this line.
Naturally, I immediately messaged Kelly and sent her the screen shots from my tablet and she verified that this was a correct pathway for her too and gave permission to use her name in this story. At the bottom of the full pathway (I cut off the image at my great great grandmother) there is a "Does this path look correct to you" and then you can click the thumbs up or thumbs down. Thumbs up!
Other relationship lines look more problematic. For example on my path to my common ancestor with Roald Dahl (another writer, yeah!!) it has the common ancestor correctly as Lauritz Johannesen Galtung but somehow names his son-in-law, preacher Anders Riber, as the next step, instead of the correct person, his daughter Anna Katarine. So I clicked the thumbs down. Next it asked if it should remove it from my list and of course I said no! Then I checked the relationship on the GENI.com website and yes click here to see how Roald Dahl is my 9th cousin once removed on a slightly more accurate version of that pathway.
Looking at my relationship to the very good looking actor Dana Carvey, I see the shared ancestor is Ola Jonsson, 1649-1704, a common name in Norway so it looks dubious. Most of the others are related via my Etne, Hordaland ancestors, on my more famous Galtung line. So I started following Dana's side down. Yes there was a daughter named Kari but she did not marry a Tarald so a child named Taraldsen is unlikely. GENI does not find this relationship either. Thumbs down? Not yet, he is too cute.

As a genealogist, I mistook the share icon for a click to the pedigree icon. Nope, it is to let you brag about these relationships on various social media.
Click here for the We're Related page at Ancestry that has links to the app stores.