Today we all got an email from Ancestry announcing new ethnicity reports for everyone. Adding five times the reference populations plus a better algorithm that can often indicate the modern countries. This time I really do have the new ancestry composition estimates!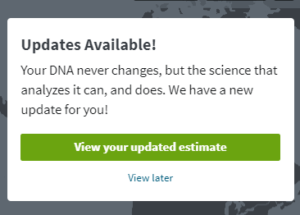 Naturally I immediately went and looked. Then I messaged and emailed all my tested cousins to accept the new update. When you log in to Ancestry and click on DNA in the top menu you get a page with three panels. Click on the panel to the left called "DNA story" to go to a page with a world map and the Updates Available box on the upper right.
Click the green button that says View your Updated Estimate in that box. Next you have to answer a few questions about your expectations and your thoughts on the previous ethnicity. I am afraid I did not understand that below each was a slider which I could move to indicate the level of accuracy, so until the last one that I answered, I left it alone. I wonder how many others will make that error.
The first time on your new ethnicity page, you will see a panel on the right showing how your estimates have changed. Here is mine. I was sad to say goodbye to that unlikely 1% Polynesian!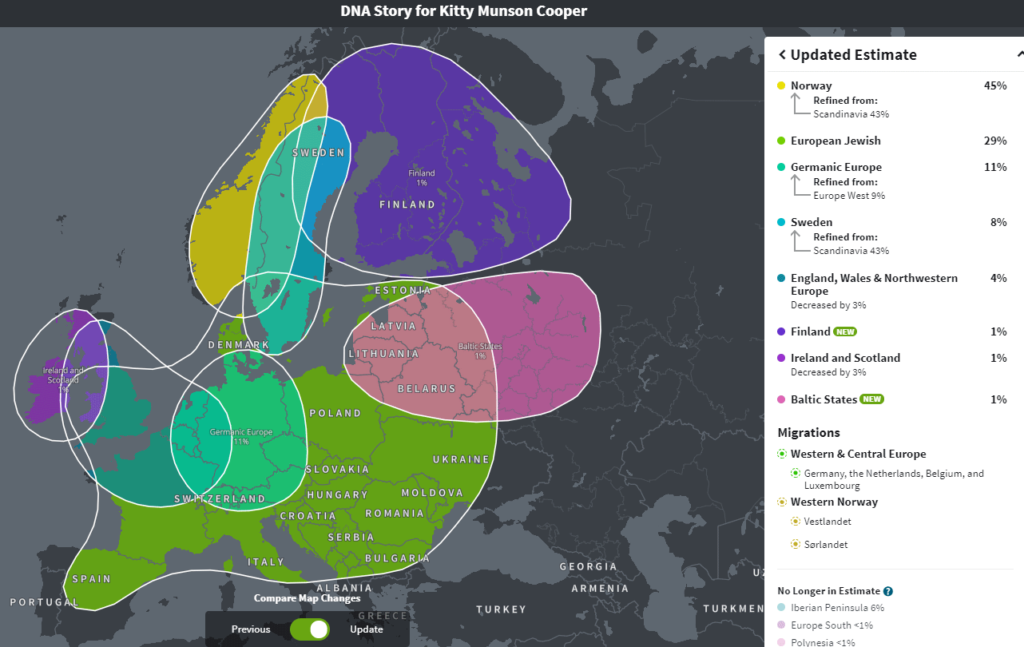 My father was Norwegian American with one fourth grandad (2% of his DNA?) who was German. My mother was born in Munich to a Jewish father and Bavarian Catholic mother. So how does that play out in these new estimates? Could the Swedish be a remnant from the 30 years war where Swedish soldiers rampaged through Bavaria? Actually I think my Norwegian dad had a fifth grandparent who was Swedish but that would hardly show either.
Here is my brother's  page showing the new estimates with the changes: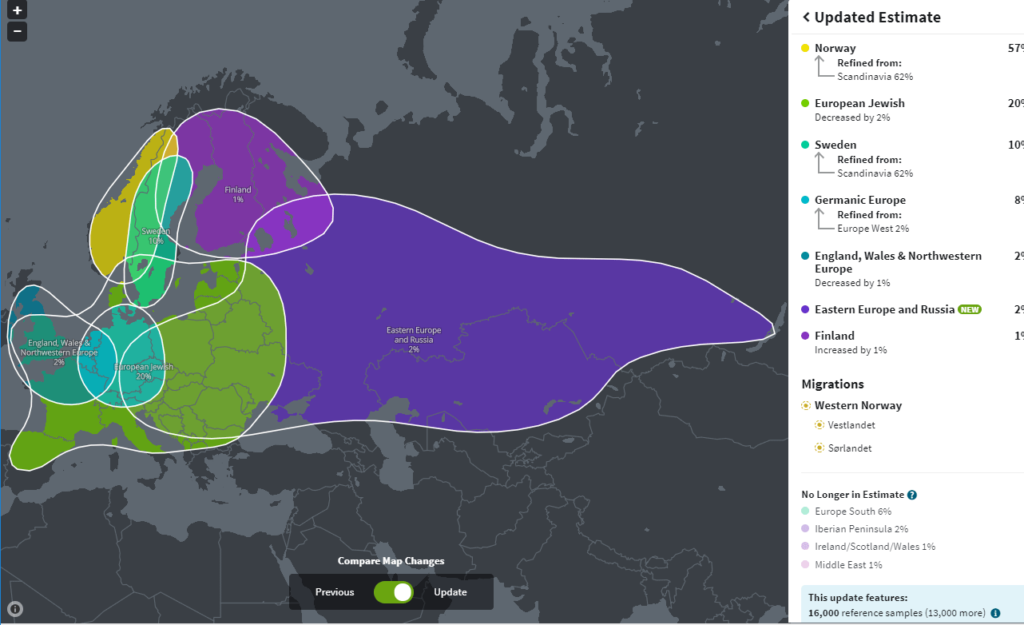 I am still 29% Jewish but my brother is down to 20% from 22%. Our maternal grandad was Jewish and I randomly got more of his DNA than my grandmother's. When a 2nd cousin on our maternal grandmother's side tested, my brother did indeed share a third again as much DNA with her as I did (Click here for that post)
By the way you can get back to the page showing the changes together with the new estimates by clicking on the small blue Updates at the top of your ethnicity estimate then the View Previous Estimate at the bottom of the Ethnicity box followed by Compare these results to your most recent AncestryDNA estimate on the next page.
Now to look at some more interesting ethnic makeups from my cousins and people I have helped.

I found the unknown paternal family for Tessa who turned out to be New Mexican from the earliest settlers of that state, both native and coming from Spain. They probably even included a few sephardic jews fleeing the inquisition (click here for that story). Here are her results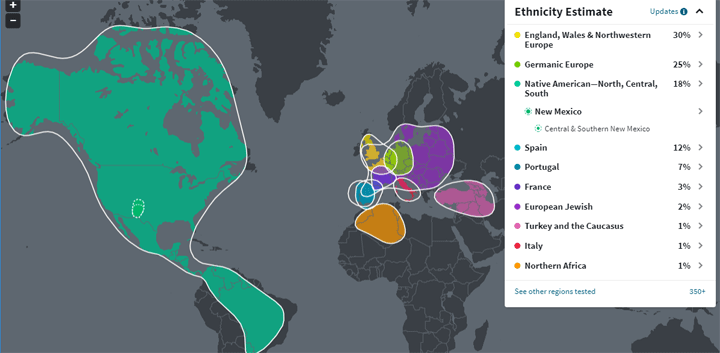 My own dear husband who was very surprised to be only 87% jewish in the previous estimates, as he knew he was 100%, is much happier with the new 97%. His father's family was from Galicia/Poland and his mother's family from Galicia/Ukraine so this looks pretty accurate: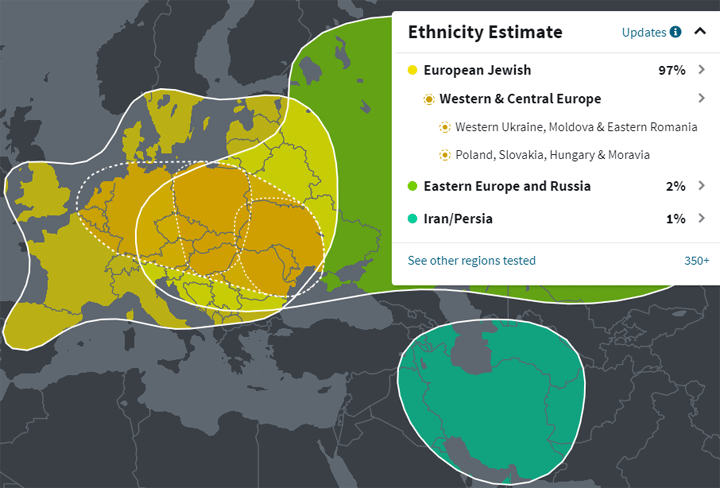 Here is my cousin whose mother was Belgian and father Norwegian (my Dad's brother). This is a screenshot of the page showing what changed: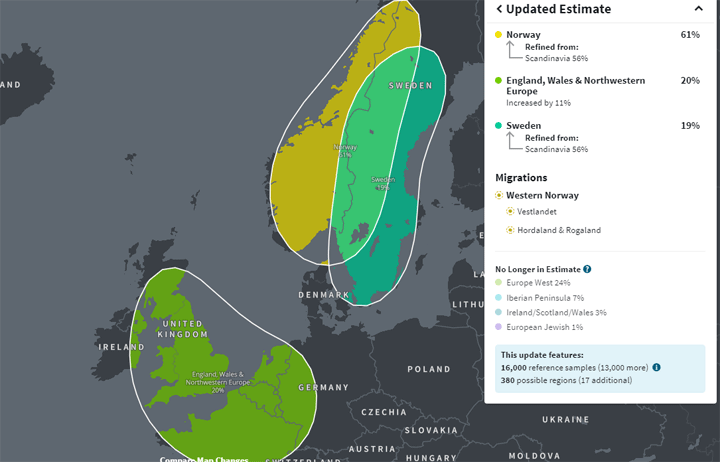 Strangely different, except for Norway, is his son whose mother is Morrocan. He is indeed his son and my cousin in the DNA. Where did the Belgium DNA from his grandmother go? Part of Portugal?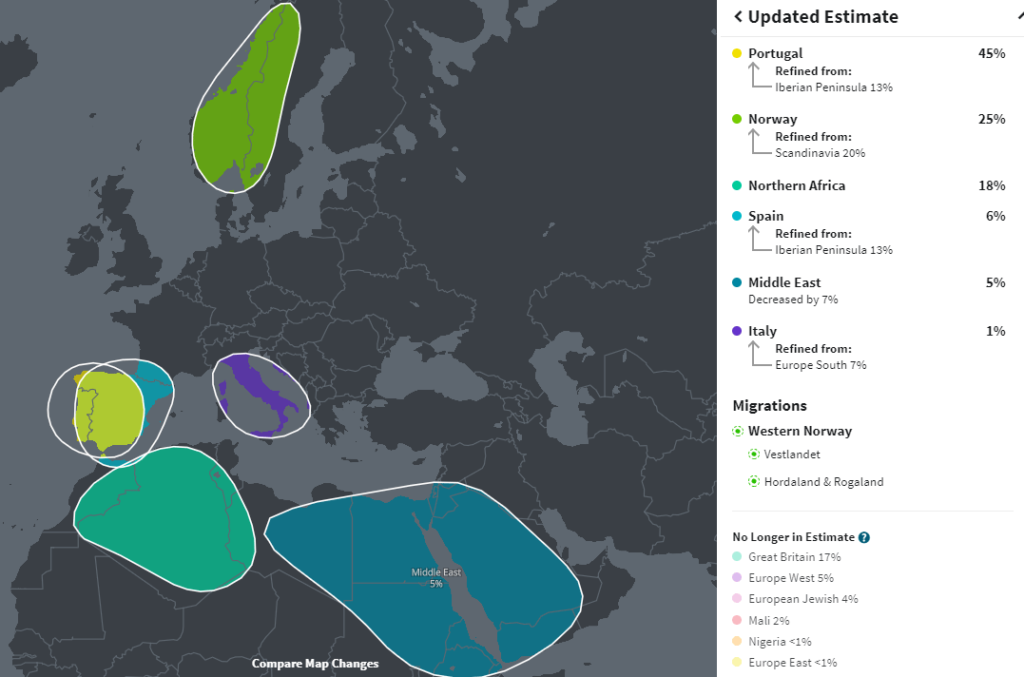 And as more of my interesting cousins report in, I will post those images here
Meanwhile head on over to the DNA Geek's blog, from Leah Larkin, for a good scientific analysis of these changes: http://thednageek.com/major-enhancement-to-ancestrydnas-ethnicity-estimates/
Or read Robert Estes' post on these changes. She reminds us that ethnicity is far from an accurate science yet! https://dna-explained.com/2018/09/13/ancestry-2018-ethnicity-update/