There are four exciting new utilities at GEDmatch.com which I plan to cover in depth over the next several days. These are only available to for people who have donated  at least $10 (every additional $10 gets you these for another month). A good way for GEDmatch to pay for their extra server costs. The rest of the site will remain free. The utilities are: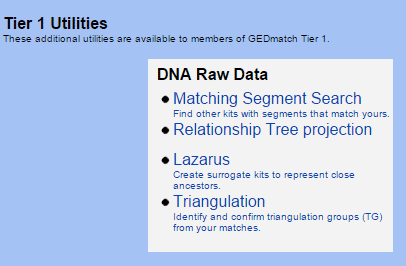 A Matching Segment Search – Get a list of all your segment matches suitable for cutting and pasting into a spreadsheet
A Relationship Tree projection – calculates probable relationship paths based on Autosomal and X-DNA Genetic Distances. It is experimental, try it and give them feedback
Lazarus – Construct a kit to represent a close ancestor, wow!
Triangulation – takes your top 300 matches and finds which ones match each other with details. The format can be copied to a spreadsheet
Yes I have used Lazarus to construct a kit for my mother from me, my brother and her two sisters but I have not experimented enough with it to report yet. Soon.
But Blaine Bettinger has reported on his experiments with Lazarus so read: http://www.thegeneticgenealogist.com/2014/10/20/finally-gedmatch-announces-monetization-strategy-way-raise-dead/
I have not tried the relationship tree tool yet either. Later.
The Matching Segment Tool
The Matching Segment Tool is what we have all been asking for. It aggregates all the segment matches for a specific kit at GEDmatch into a spreadsheet format. To get this you enter your kit number on the form and whether or not you want the graphic (best to say no if you are planning to cut and paste to a spreadsheet). Here is an excerpt from Dad's after I lowered the threshold to 500 SNPs and 5cM:
The colors in the graphic section just indicate where the logical breaks are in the overlaps, they are not otherwise significant. The names and kit numbers have been deliberately obscured for privacy.
The Triangulation tool
The Triangulation tool is the one that excites me the most. The concept is to show where you have two or more people who match each other at the same location as you match each of them. A three-way (or more) match means that all of you share a common ancestor from whom you got that DNA segment. As you can imagine, this takes a while for the computer to crunch its way through.
You start with a form that sets the Upper Segment Threshold Limit. The default of 3000 gets rid of your close family: brothers, sisters, parents, children who would clutter up the results. You can get rid of first cousins or other close relatives by lowering this even more. Look at the shared cMs in your one-to-many to see where to set this if you want to exclude more family. The other selection on the form is which way you want the output. I suggest you use both the first time. Else just use the Show results sorted by kit_number, chromosome, segment start position because it has more details and you can always resort it in your spreadsheet
Here is what the output looks like when you select both outputs (click on any image to see a larger version):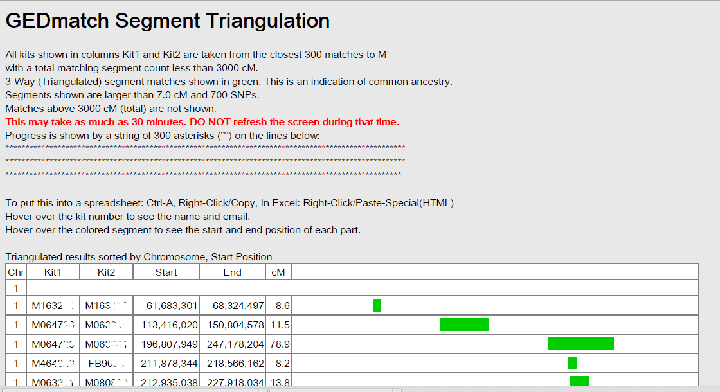 The first section with the graphic does not show the names or email addresses for the matching kits. The next section, without the graphic, is sorted by kit number and it does give you all that information. I just erased a bit of it from the image for privacy.

You can select either or both these outputs from the form.
I prefer to use the second one, the Triangulated results sorted by Kit Number, etc and then I cut and paste those results to a spreadsheet. Next I make a copy of that spreadsheet sorted by chromosome and start position which shows me the triangulation information that I was looking for. I can use these results with my Segment Mapper or One Chromosome Mapper to make a picture.
I am working my way through this and emailing new DNA relatives. More posts on Tier 1 soon.